---
Source: North Manchester Journal, December 22, 1881
Tremendous Excitement!
AT PORTALS OF THE NEW YORK CHEAP STORE!
Where is to be seen the LARGEST, FINEST AND BEST selected stock of staple and fancy
DRESS GOODS,
Every offered by any dry goods house in the town of North Manchester, the assertions of others to the contrary, notwithstanding, and an inspection will prove this. In READY-MADE CLOTHING, No one in this market has a better assortment than I have nor can sell at any better BARGAINS! Mind that, now. Of BOOTS, SHOES, HATS AND CAPS, I have a full and complete line, and can please all.
I Defy Competition!
In any department of merchandise, and cheerfully invite a careful inspection of both goods and prices, and I am sure
satisfaction is certain, both as to quality and prices.
Don't mistake the place--immediately opposite the Bank, first door west of Harter Bros. Drug store.
J. OPPENHEIM
---
In 1881 Jacob Oppenheim's "New York Cheap Store" was located in the third building east of Market St on the North side of Main Street.
J.B. Lockwood's Tin Shop was adjacent to the West.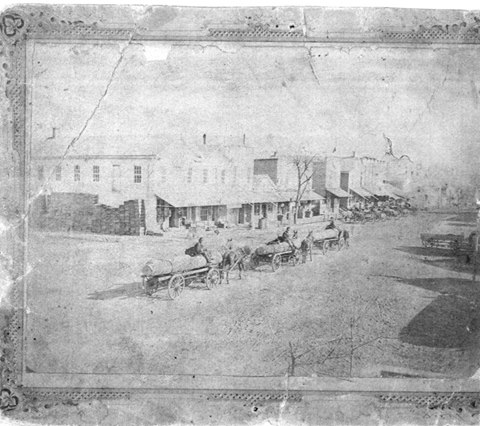 ---