Source: News-Journal, August 16, 1973, Centennial Section
Liberty Elevator Started In 1890
Liberty Elevator has been in continuous operation since the 1890s. The original owner was Horry Kinsey who ran the firm until 1929.
Clay Syler purchased the elevator from Kinsey and operated it until 1945 when he sold it to a partnership comprised of Russell Dailey and Glen Keaffaber. Keaffaber became sole owner in 1946.
Keaffaber first went to work in the elevator in 1939 when he was employed by Clay Syler. He has been working in the same location ever since.
Several big changes have taken place since Keaffaber entered the elevator business. Horses were commonly used by area farmers to haul grain until the 1940s.
The changing fortunes of the railroads have also had an effect on the elevators. In 1957 the elevator loaded seven box car loads of wheat in one day. Last spring the Liberty Elevator had to wait over three months to get railroad cars to haul grain.
The present day elevator is nearing its 85th year of serving agriculture in Wabash, Whitley, Kosciusko and Huntington counties.
---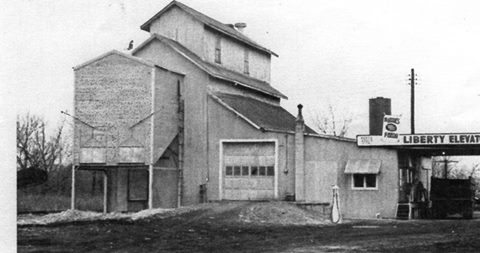 ---
Source: Ravelings (1952) Ad:
LIBERTY ELEVATOR
-- Glen Keaffaber --
GRAIN -- FEED
GRINDING -- COAL
Phone: 18-F-4
Liberty Mills, Indiana
---