Mike's (Russell Michael) Standard Service Station in 1938, Corner of Main and Market Streets, North Manchester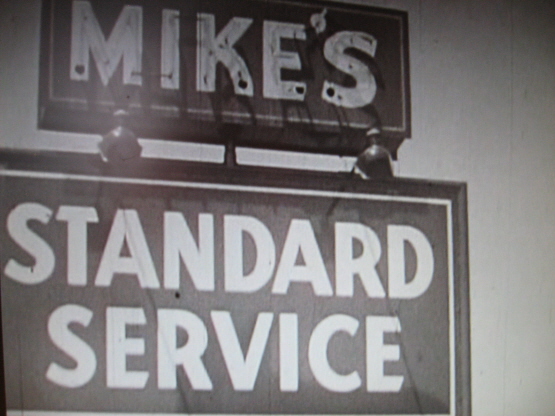 ---
Source: Ravelings (1947) Ad:
MIKE'S STANDARD SERVICE
In the Loop
North Manchester, Ind.
---
Mike's Standard Service Station, 1930. In photo: Russell Michael, Don Landis and Max Hathaway, the youngest. Dr. Lower's office was in the building in the background (now the Chamber of Commerce office). Mr. Dave's Restaurant is now on this corner.
---
R. Ned Brooks and Donald L. Jefferson, Remembering North Manchester Indiana in the 1930s and 1940s, pp. 41-42:
102-104 East Main St. -- Two frame buildings that occupied 102 and 104 East Main Street burned down and were never rebuilt. ...
[For information on the 1890 fire at this location, click here.]
Standard Oil company erected the first service station in North Manchester at this address. Prior to that, gasoline had been sold at pumps outside groceries and other stores. Russell L. Michael owned Mike's Standard Oil Station. Mike was a fixture in the community, at the same location well beyond the period of time we are addressing. Harry Leffel, in his 1965 writings, places Mike here in 1925. Today this address is a restaurant. During our period of time, the city scale for weighing loaded trucks was along Market Street out in front of Mike's station.
---