Source: News-Journal, November 15, 1934
TWENTY WORKING AT NEW FACTORY
There are twenty people now employed by the Northfield company that recently moved here from Sheboygan, Michigan. Fifteen of these are North Manchester people, and five are experienced workmen who came here with the company. The work now is largely upholstering, as the wood working machinery in the North Manchester factory has not yet been put into operation, but is being arranged for use, and will soon be ready. Some of the first output of the local company will be shown Saturday by the Harting Furniture company.
---
Source: News-Journal, January 9, 1936
The Northfield company is showing living room furniture at the Chicago furniture market. During the last few weeks the exhibit was prepared and is the largest and most varied that the Northfield company has ever had at the market. A.F. Hinckle went to Chicago Wednesday to spend a day or two at the market.
A few weeks ago the building used in mixing moss and for storage was damaged by fire. A new building is nearly completed, the floor being laid Wednesday and it will not be long until the building will be ready to use. The factory did not shut down because of the fire, and while there was some inconvenience, the factory has operated steadily.
---
Northfield Furniture Delivery Truck, 1938, North Manchester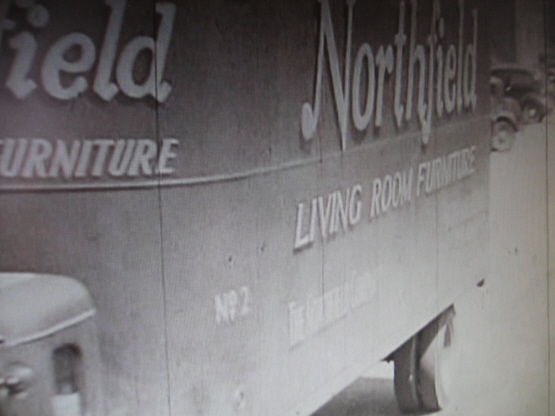 ---
Northfield Furniture Factory, 1938, North Manchester
---
Source: Aurora (1941) Ad:
The Northfield Company
Manufacturers of
Upholstered Living Room Furniture
North Manchester, Indiana
---