Source: North Manchester Journal, January 11, 1883, Ad:
The finest upholstered furniture in the city at Stewart & Ellwood's.
Stewart & Ellwood, the furniture men of Union Block, are doing a rushing business in their new room. Try them for fine furniture of all kinds.
---
Source: North Manchester Journal, May 22, 1890
Stewart & Ellwood, the leading furniture dealers, are keeping up with the times in their line of business. All the latest styles in furniture are kept in stock or will be procured on short notice. Parties wanting furniture should see them before buying.
---
Source: Wabash County Directory for 1894, Display Ad:
STEWART & ELLWOOD FUNERAL Directors, Embalmers
and Dealers in all kinds of FURNITURE. Oldest established house of its kind in NORTH MANCHESTER.
---
Source: North Manchester Journal, January 14, 1897
Stewart & Ellwood
In looking over the mercantile institutions of North Manchester it is pleasant to note the advancement that has been made in all directions, and this improvement is as noticeable in the furniture and undertaking business as in any other quarter. Stewart & Ellwood are among the solid and substantial business men of the city and their furniture and undertaking establishment in Union block, East Main street, shows for itself what success its owners have had since they embarked in business, about twenty-one years ago.
Their stock requires three floors, 156x20, for its accommodation and each of the three floors is packed with furniture of every description. Their stock is first-class and includes everything kept in an up-to-date furniture and undertaking establishment. From the firm hold Messrs. Stewart & Ellwood have on the furniture trade of North Manchester it is evident they treat their customers fairly in regard to quality of goods and the prices at which the same are sold.
Messrs. Stewart & Ellwood have a first class undertaking department connected with their store, and the greatest care and kindness is manifested by them in all work in this department. Their stock of caskets and burial robes is the largest carried by any undertaking firm in North Manchester, and their long experience in this line of their business enables them to give satisfaction where others would fail.
---
Stewart & Ellwood Undertaking, 216 E. Main St., circa 1900--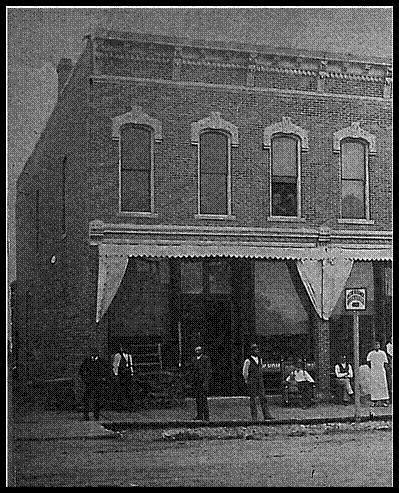 For history and photos of the undertakers in North Manchester and Laketon, click here for Mike McKee's article.
---