Source: North Manchester Journal, March 9, 1893 Ad:
Strauss & Gingerick,
PROPRIETORS OF
Manchester Roller Mills
AND DEALERS IN
FLOUR AND ALL KINDS OF FEED!
WILL CONTINUE TO
Exchange Flour and Feed for Grain of any Kind.
Guaranteeing Satisfaction in Quantity and Quality.
Our Flour is made from the Best Selected Old Wheat
AND IS EQUAL TO ANY IN THE MARKETS!
WE RETAIL IT AT $2.00 Per Hundred.
To those wishing to sell their Grain and buy Feed or Flour in Bulk, we make a Special Price.
It Will Pay You to See Us Before Purchasing Elsewhere,
STRAUSS & GINGERICK.
---
Source: North Manchester Journal, January 11, 1894
GOLD DUST
THE BEST FLOUR IN THE MARKET
SOLD BY
Strauss & Gingerick,
W.L. Brookover & Bro.,
G.W. Baird,
Daniel Sheller,
S.E. Mills,
B.F. Shilt,
Byrer & Howard,
C.F. Reed,
Long & Frantz,
Grossnickle & Bolanger.
TRY A SACK. THE FLOUR WILL DO THE REST.
---
Source: North Manchester Journal, May 25, 1905
GRINDING OUT GOLD DUST
Sixty-six Years of Continuous Milling Business.
A mill that grinds out gold dust at the rate of three barrels an hour would make a mining town swell up like a balloon and put on more airs than a hired girl who has married her rich employer. Yet there is such a mill in North Manchester, and every day it is busy grinding out this dust. It is the "Gold Dust" flour, that ranks away up with the very best, and that affords more enjoyment to the hungry man than would the real yellow dust.
This mill is probably the oldest business enterprise in this section of the country. It has been in continuous operation since in 1839, when Joseph Harter looked upon the water of Eel river and conceived the idea that it would be well to harness it to a mill to grind the grists of the few settlers who had cast their lots in this locality. The first dam was built a little below the present one, and piling from this old am still mark the spot. About 1843 a new and larger mill was built there, this building being four stories in height and 40x45 feet in size, Asa Jacobs being the millwright. In addition to the grist grinding this mill was also a woolen and carding mill. As this it run until shortly before the war, when the carding and woolen features were discarded, much of the woolen machinery being sold to Peru parties. Joseph Harter died in 1861 and after his death the mill was sold several times, first passing to Henry King, who in turn sold it to Thompson & Marshal. They sold it to Jacob Tilman who with his sons managed the mill for some time. Upon the death of Mr. Tilman the mill was again sold, and finally passed into the hands of Daniel Strauss and Henry Arnold thirty-three years ago. Mr. Arnold then sold out, and the mill passed into the ownership of Mr. Strauss, father of J.W. Strauss, a member of the present milling company.
In the meantime the old dam had been replaced by a brush dam, and this gave place to the present one. In 1876 the present mill was erected, and the old one was torn down. In 1885 the old mill stones were discarded, and the roller process put into use. It was while this change was being made that J.W. Strauss made his debut as a miller, he having charge of the grinding by the old process while the new was being installed.
The mill today is owned by the North Manchester Milling company, and is making a superior brand of flour that is meeting with ready sale on the market. This flour was given the "Gold Dust" name when the roller process was first installed, and the name has been a guarantee of good quality every since. Last year there was comparatively little good wheat raised in this country, and the wheat that is now being turned into flour has been shipped here. The indications now point to a good crop of home wheat this season and if these indications are fulfilled home wheat will again be used. Smith Miller, a miller by trade and a Miller by name, is in charge of the mechanical part of the mill and his work in that capacity is giving good satisfaction to the patrons of the mill.
---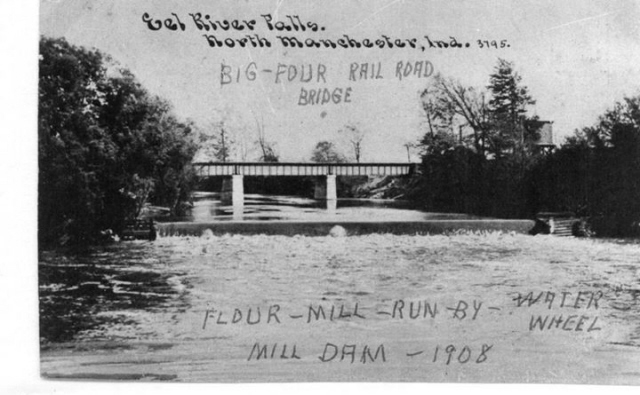 ---
Mill Dam circa 1920--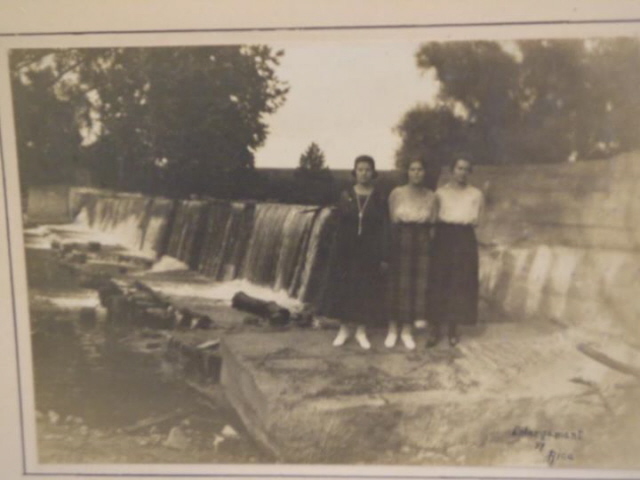 ---