Source: News-Journal, August 16, 1973 Centennial Section
Wible's Shoe Store Has Been Part Of Main Street Since 1935
Wible's Shoe Store has been part of North Manchester's Main Street since Sept. 16, 1935.
Harry Wible opened the original store across the street from the present location. He had been selling shoes in Kendalville since 1929 and was looking for his own business.
A traveling shoe salesman told him there would be a good opportunity in North Manchester so Wible came down on a Friday afternoon. The next Monday he had rented a room in North Manchester. Sixteen days later he was open for business.
The following year he married Bea Urschel and she became a partner in the business. While Harry sold shoes she operated a beauty shop in the rear of the shoe store. The beauty shop operated until 1946.
Wible's moved to its present location Sept. 1, 1943. The first customer in the present building was young Bobby Johnson, son of Mr. and Mrs. Homer Johnson.
As the Wible family grew Dan and Kay became involved with the store operation. Kay worked for a while as a counter girl. Dan became a salesman in 1956 and today is half owner in the business.
Within the year Wible's Shoe Store will double in size. Remodeling is now underway to join the present building with the one to the east.
A new store front will also be added which will be designed to preserve the historical architecture of the two buildings.
Wible's has changed from the 1935 private ownership to a corporation in 1972.
The present store carries nationally known quality shoes. Harry Wible said, "We started out in the 1930s selling the inexpensive lines but soon discovered North Manchester people prefer the quality lines. That's what we offer them today."
---
Source: Aurora (1936) Ad:
Smart Shoes for the Coed at
WIBLE'S SHOE STORE
Men's Stylish Shoes Chiffon Hose
---
Wible's Shoe Store in 1938 on the south side of Main Street, 203 East Main St.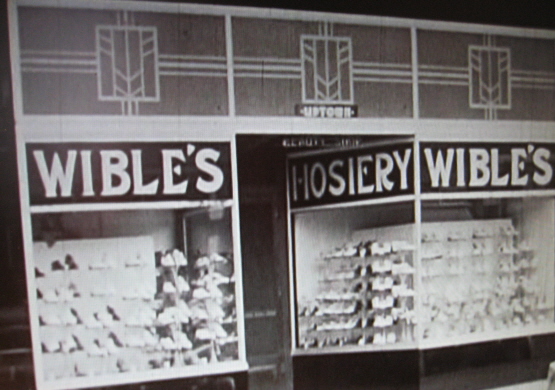 ---
Source: Ravelings (1946) Ad:
They Spell Q-u-a-l-i-t-y! WEATHER- BIRD SHOES
WE FEATURE "X-RAY" SHOE FITTING
WIBLE'S Shoe Store
---
Source: Aurora (1950) Ad:
The New
WIBLE SHOE STORE
Nationally Advertised Shoes for the Entire Family
Jarman - Weather Bird - American Girl
130 E. Main Phone 318
NORTH MANCHESTER
---
Source: Ravelings (1952) Ad:
Be sure and See
"Paper Soles Wible"
For Your Shoe Needs
Also Lamoine and Bob
WIBLE'S SHOE STORE
130 East Main Phone 318
North Manchester
---
Source: North Manchester Chamber of Commerce Booklet (1986)
A FAMILY TRADITION
for over 50 years
One of Indiana's largest and most complete Family Shoe Store that still provides fit and service to each and every valued customer.
Wible's Shoe Store
130 East Main Street
North Manchester, IN
Phone 982-8144
---
Wible's Shoe Store--Red Wing Shoes
---