NEWSLETTER OF THE NORTH MANCHESTER HISTORICAL SOCIETY, INC.
Volume XXXI, No. 2, May 2014
The Contributions to North Manchester
of Liegh Bradford Freed & Florence Thompson Freed
By Bonnie Dee Freed Merritt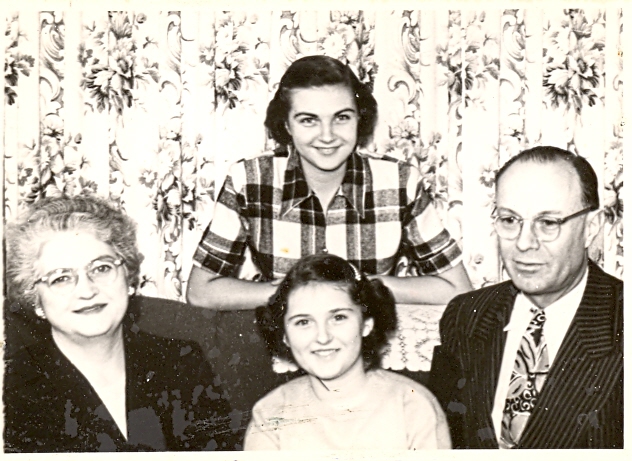 Every family has their own story to tell. While different, families do have similar experiences and these happenings help shape our lives. The stories that I'm going to share are my recollections of one family, our family. Our family consisted of my father, my mother, my sister Connie Lee, and me.
Liegh Bradford Freed was born in Hancock County, Ohio, on May 19, 1899, near Findlay, Lima and Bluffton, Ohio. He was born on a farm located between New Stark and Williamstown, Ohio. His middle name was Bradford signifying descent (11th generation) from Governor Bradford who arrived on the Mayflower.
Florence Thompson Freed was born in Wabash County, IN on September 23, 1905. She was born at the Wabash County Infirmary which was known as the "Poor Farm". This was located at the intersection of Highways 13 and 24. Her parents were the Superintendent and the Matron. Mother lived there until she was 8 years of age and the politics changed. Her father, a staunch Republican, was replaced by a Democrat and so they moved into Wabash after he had held the job for 13 years. Mother was the only child at the home and was doted on by the residents. She had good memories of her years living there. She attended Century Elementary School on Manchester Avenue where the Wabash Gardens Restaurant (now Joe's) was formerly located. Her dad drove her to school in the buggy and she was the only one to stay over the noon hour. Mother had long curls and she told how the boy behind her would put a curl in the ink well and then when she turned her head, ink would fly all over.
When Florence was 8 years old she sang in the Bulgin Evangelistic Campaign in Wabash. She stood on a chair to be seen. She began singing in the Wabash Christian Church Choir at the age of 14 and was a soloist in the high school choir and sang a solo at her graduation from Wabash High School in May 1923.
While in grade school dad missed a year of school because of contracting Scarlet Fever and Bright's Disease at the same time. He graduated from Washington Township High School in Dola, Ohio on April 26, 1916. There were three boys in his class. Dad taught grades 1-8 in a one-room school in 1920 and also taught Jr. High and High School later. He used his earnings from teaching to attend colleges in the area. At different times he attended classes at Bluffton, Findlay and Ohio Northern Colleges. After securing enough money from teaching, he came to Manchester College in the fall of 1923. Mother began college at Manchester also in that fall and that is where they met.
Mother roomed at Gardner Hall at the end of College Avenue where East Hall is now located. The Gardners were family friends from Wabash. Mr. Gardner had worked at the Wabash Cabinet Company and had stored some furniture in the garage behind the house. My parents purchased two of their wooden filing cabinets which we now possess.
Florence's father died in October 1923, which was the fall she entered college. Soon after that she and her mother moved to North Manchester so she didn't have to drive from Wabash to North Manchester to college. They lived at 1001 North Wayne while her mother Delia Grindle Thompson had the house built in 1925 at 1005 North Wayne Street. My sister and I were born in that house.
Liegh and Florence were married August 15, 1925 at sunrise on the swan island at Winona Lake, Indiana. My sister and I were also married on August 15, but neither of us were married at sunrise. Retha Fish (an aunt of Mary Kathryn Fish Uhrig) sang "At Dawning" and dad's roommate, Paul Garrett played "The World is Waiting for the Sunrise" on the xylophone. Garrett was the originator of the Manchester College band.
Mom and Dad moved into the house with grandma Thompson at 1005 N. Wayne after they were married. Soon they joined the Manchester Walnut Street Church of the Brethren and sang in the choir directed by Sadie Wampler and became regular active members. In the 1950s our church sponsored several Latvian families. Two of those families, the Abeles and the Pudis, lived in our house at 1001 N. Wayne.
Florence sang in the M.C. Ladies Glee Club for Commencement on May 22, 1925. The class address was given by the Honorable Thomas R. Marshall. This was Marshall's last public appearance. Mom did research on the life of Thomas Marshall and gave programs to area civic groups for several years. Another interesting artifact they kept (besides the 1925 commencement program) was an envelope of the first day issue commemorating the first air mail flight between North Manchester and Fort Wayne. They probably kept this because it was issued on May 19, 1938, the day of my dad's birthday.
Mom graduated from Manchester College in 1928 and dad graduated in 1926. He started teaching science at Central High School where the public library is now located. He had the opportunity to teach in his home area in Ohio, but rejected this offer to teach in North Manchester. Besides falling in love with each other they had also fallen in love with North Manchester. Dad received a Master's Degree from Ball State some years later.
Some of the courses he taught were General Science, Biology, Chemistry and Physics. Many of these classes were taught in Room 21, known as the stairstep room. Liegh taught from 1926 to 1964 at Central and Manchester High Schools. This was a total of 38 years in this system. In all he taught 42 years.
My parents had many interests and hobbies. Dad said he liked to try something new each year. I found a list of several things Dad listed as studying. Among those were Machine Shop, Radio and Electronics, a Photography Course, Printing Course, Illustration Course and the study of making a Box and Pin Hole Camera. I found a card stating he had passed a course from Purdue in "Fundamentals of Radio" on June 30, 1943. Many of these interests led to more extensive work in these areas. He started a radio club at Central probably in the 1940s.
The one interest that both of them enjoyed was the love of music. They sang together for approximately 30 years at church, for weddings and funerals and other activities for nearby organizations.
Liegh died January 10, 1987 at the age of 87 years and Florence died January 22, 2003 at age 97. David Rogers, the minister at dad's funeral, chose the theme of "A Singer of New Songs" while 16 years later, the minister of mom's service, Christen Miller, chose the topic of her meditation as "A Faith that Sings".
In college dad sang top tenor in the male quartet. The other members were Ralph Cordier (brother of Andrew Cordier), Harold Fish (uncle of Mary Kathryn Uhrig), and Virgil Kindy. During the summer of 1925 the quartet toured Michigan, Pennsylvania and Ohio. In dad's journals of this trip there were accounts of being late for concerts because of frequent car troubles. Later dad sang in North Manchester Rotary Club quartets.
Mom was "Little Buttercup" in Gilbert and Sullivan's H.S.M. Pinafore while she was in college in April 1926. Florence taught a Manchester College music elementary education course and then taught in North Manchester public schools as Supervisor of elementary music. It was in this capacity that she directed the operetta, "The Kitchen Clock" in January 1928. There were 140 children in the first six grades that participated.
Dad wrote songs also, including the Manchester College pep song, "Hail To Thee". He started playing the trombone with an instrument he bought when he was 16 years old. He purchased the trombone with money he earned by raising and selling sheep, calves and hickory nuts. My sister and I played trombone in high school using that same instrument.
In 1928 dad was a sponsor for a Central High School class outing to Fort Wayne to a program at the Emboyd Theater (The Embassy). Bob Hope was the Master of Ceremonies and he introduced a song of dad's entitled "I'm Wanting You". The song never became a big hit, but was used on radio and by dance bands and orchestras. He wrote several songs and we have a copy of the master cut for one of those songs.
Another example of music in their lives was a song dad wrote in 1933 entitled "The Song of My Heart To You". They sang this at many weddings and other occasions during the years. One place was for the installation of Mary Louise Little as the grand matron of the Order of the Eastern Star for the state of Indiana. They followed this by singing this at the national convention of this group in Minneapolis, Minnesota. Dad later wrote Christmas words for this song.
Dad sang in the Wabash County Male Quartet in 1929. They sang commercials for the Wayne Overall Company of Fort Wayne and so they named themselves the "Overall Four". They entered the Indiana State Fair Quartet Competition and won for three years in a row. The officials wouldn't let them enter the next year. The members of this quartet were Liegh B. Freed, Harold Ulrey, Harry Mishler and Floyd Stevens. An article in the local newspaper stated, "The Overall Quartet of this city…left Sunday for Chicago where they will be engaged this week in broadcasting on the program of the famous 'Purdue Threshing Ring' Monday, Tuesday, Wednesday, Thursday and Friday. The noon programs will be given at 12:45 at the Swifts Studio, W.L.S. at the Union Stock Yards and the evening program will come from the Hotel Sherman Studio at 6:30. The quartet got their name from wearing the Wayne Overalls and have won their fame from their fine voices and pleasing personalities." During this time dad was offered a contract to sing at W.L.S., but he rejected the offer.
"Liegh and Flo" produced a radio program over WOWO on Tuesday evenings in 1929. Dad wrote most of their shows in rhyme. An example of this is the announcing of "Let Me Call You Sweetheart"--
"Let Me Call You Sweetheart"
is a song which is not new.
It's liked by everyone I'm sure,
And not by just a few.
It may recall some days gone by.
Days of love so true,
So now, while you are listening,
We'll sing this song for you. Liegh B. Freed
Liegh joined the North Manchester Rotary Club in October 1941 and was a 46-year member until he died in 1987. For more than 40 years he wrote the Rotary newsletter and in 1942 he wrote the bulletin in rhyme for six months. (Karl resumed writing the bulletin soon after dad died.)
Some other examples of his rhyming were writing for a faculty dinner at the Sheller Hotel on January 7, 1949; a program at the Rodeheaver Music School; Mother and Daughter Banquets-welcomes and responses; Central High School Trojan Basketball Banquet in 1953; Central High School Senior Trip in 1948; and for other community affairs.
In 1933 both of my parents went to Chicago to sing with a chorus of 5000 at the Chicago Century of Progress. This program was the opening activity of the World's Fair. There were approximately 30 persons from North Manchester that sang with that group. The performance was of "The Messiah". Mom was listed in the program with the directors and chairmen and so I would guess it was her job to enlist others from North Manchester to join the chorus.
When dad taught at Central he wore many hats, as did the other teachers. Teachers volunteered for extracurricular activities and usually C.W. Bagwell sold tickets and dad collected tickets at all the basketball games. Central High School Senior classes always took a trip to Washington, D.C. and New York City, and they raised money for this trip by putting on a Junior Class Carnival. Dad was sponsor of this endeavor which took much effort. The carnival was a big event in the community.
Dad was always interested in electronics and radio. Also recording was an interest, which led to him doing the recording for Homer Rodeheaver in his School of Music at Winona Lake, Indiana for many years. It was during the 15-20 years they operated the Recording Studio that he made records for the Billy Graham team which included George Beverly Shea and Cliff Barrows. Another person for whom they made records was Donald Gramm, who later sang with the Metropolitan Opera. Mother made appointments and billing and kept track of the book work for the recording studio.
Dad recorded high school classes and student teachers for which he was a critic teacher for Manchester College. He also recorded class discussions and many concerts and other activities at school. Many weddings were recorded in North Manchester and in nearby towns. At one time we had hundreds of tape recordings of family and community functions. For several years the local Rotary Club performed Minstrel Shows and he taped these.
Dad put his interest in photography to use in the community. He photographed many activities and locations for the high school annuals as he was a sponsor of this group. He took and developed many pictures for the annuals. We have many pictures of plays, concerts and candid pictures of our home, school and church activities.
While in Rotary he photographed each member with their families and made a photo album of businesses and locations around North Manchester. I believe this bound album was given to the public library. Paul Heckman was a member of Rotary and so it was bound at the Heckman Bindery.
Later Liegh started taking films of the high school and college football games and developing the films of these events.
Dad enjoyed small cars and among the ones I remember were two Crosleys, one a convertible and another a station wagon. Other small cars we owned were a Nash Metropolitan, a Henry J and a 1962 red Corvair convertible. The latter was the only new car my parents owned.
For several years my dad corresponded with Tad Burness who wrote a syndicated column on older model cars which many newspapers published. Dad wrote him about the DeWitt car and the replica Russell (Pudge) Egolf had produced. Later Burness featured the DeWitt in an article.
Dad traded one of the Crosleys to obtain a Rototiller to use in our garden. This orchard/garden was located behind Thomas Marshall School on East Street. Dad always planted more watermelons than we could use so the high school boys could have their share.
The science rooms were near Walnut Street where dad always parked. One afternoon after school when he came out to drive home, he found the Crosley was on the tree lawn between two trees. Of course, he could not drive it home, so he walked home. The next morning in Chemistry class he named three boys who had lifted the car in between the trees. He stated that if the car was lifted back on the street by the time school was over in the afternoon there would be nothing more said about the incident. Years later those boys still did not understand how he knew they had been the perpetrators of the prank. Dad always joked with the students and enjoyed teaching.
For many years my parents had a printing business. This started in 1930 when they began printing wedding invitations and stationery for themselves and their friends. Mother kept a sample of almost everything they printed and if you look at the wedding invitations alone you can see a history of people in North Manchester.
Paul Faudree coached track at Chester High School and came to dad and asked if they would print award ribbons for his teams. And so the expansion of printing ribbons took place for many years for events such as track, swimming, wrestling, cross country, game days, speech meets, science fairs and basketball camps such as for Purdue, Butler and Hanover.
Liegh invented a ribbon cutting machine that cut the top and bottom of the ribbon with one cut. The equipment, including all the presses and type and type cases were in the basement at the house (1005 N. Wayne) and so when it became too difficult for mom and dad to get to the basement, Karl and I took over the printing aspect of the business. Mother continued with all the billing, accepting the orders and keeping the books until she was over 90 years old.
We purchased several pieces of equipment from the Heckman Bindery and one of their workers helped us repair the equipment. We eventually sold the ribbon business to them. They improved on the processes and are still printing ribbons.
Liegh and Florence began printing their own Christmas cards in the 1930s with just their names printed on the cards. Later dad created ideas of their own for original cards. In 1948 dad made small records with the four of us wishing Merry Christmas on the records.
Another time dad took pictures of over 130 houses in North Manchester and developed these to include on a card with a picture of our house and the other houses. He also made Christmas yard displays.
In 1930 the president of the North Manchester PTA, Mrs. Alvin Ulrey, came to mom and asked her to form and direct a chorus of mothers of school children in the community. It was named the Mothers' Chorus and developed into the largest group of this kind in the state with 75 members. In 1941 the group was prepared to present a program at Peabody Home to dedicate their new choir robes. The concert was to begin at 3:00 pm and as they were practicing a husband of one of the members came in and told them of the bombing of Pearl Harbor as this was Sunday, December 7, 1941. They decided to continue with the concert. I remember a reunion these ladies planned at mom's and dad's home in 1963 when they had a glorious time reminiscing.
Mom was selected by the music committee of the Walnut Street Church of the Brethren to direct the Adult Choir in 1933. She also directed a youth choir. She directed the Adult Choir for around 20 years. The choir robes were maroon in color and dad made music folders of the same color to match the robes. These were made in January 1941 at a cost of $8.15, which they donated.
During these years Florence was in charge of securing all the music for all the church services. For many years this included Sunday morning and Sunday evening services and all the special extra services. The choir also sang during the summer months, with individuals adding special musical numbers. This service was all volunteer as she was never paid for these activities. At one time there were 85 names on the choir roster. Mother also sang in a trio for 35 years which included Bertha (Mrs. Ralph) Shull and Maurine (Mrs. Glen) Beery.
Florence was very active in different clubs, and she was an officer in many of these groups. She belonged to the Wabash County Federation of Clubs and the Indiana Federation of Clubs, serving as state officer. It was in one of the district meetings of the Indiana Federation of Clubs that she heard about the teaching of religious education in the schools. She came home and helped organize church groups and civic organizations and they raised funds to hire a teacher. This group was named the Federated Council of Religious Education and was active for 12 years. In later years this group was changed to Character Education. Florence was active in the North Manchester Woman's Club for 73 years (1930-2003); Dr. Manassah Cutler Chapter of the D.A.R., Children of the American Revolutions, serving as State President; North Manchester Civic Symphony President; North Manchester Girl Scouts, serving as trainer, troop leader and on local council; Wabash County President of the Manchester College Alumni Chapter; Red Cross; faculty member of the Rodeheaver School of Sacred Music; first Secretary and Treasurer of the local Historical Society; Eastern Star, Ivy Chapter; Sigma Eta Sorority Fine Arts, founding member of Omega Chapter; National President, Sigma Eta Sorority. This constitutes just a partial listing of Florence's activities and membership in organizations.
Both mom and dad were original members of the North Manchester Historical Society. They were on the committee to obtain the Thomas R. Marshall plaque which is located on the building on Main Street next to the Center for History. Dad was instrumental in obtaining plaques at the North Manchester Public Library and the Wabash County Hospital to commemorate "Yellow Jack" Kissinger of Liberty Mills. Kissinger was the first volunteer to be bitten by mosquitoes that carried yellow fever and thus proved the cause of the fever.
Our lives revolved around teaching, church, music, hobbies and family. We were an active, involved family in a wonderful town of North Manchester, Indiana. We appreciate all of you and thank you for all your kindness and friendship shown to my parents and our family for many years.
Editor's Note: Bonnie Dee Merritt's article is based on her earlier presentation to the North Manchester Historical Society on May 11, 2009. We thank her for making available to the Newsletter some of her notes and family photographs. More biographical articles on the Freed family have been uploaded to the NMHS website - www.nmanchesterhistory.org
---
You're Invited
to a Special Joint Program with Indiana Landmarks
May is National Preservation Month, and this year members of the North Manchester Historical Society and members of Indiana Landmarks are invited to a program celebrating their collaboration on renovation projects in North Manchester.
On Tuesday, May 13, Paul Hayden of Indiana Landmarks will tell us about "Historic Exterior Paint Colors" at 6:30 at the Center for History. At 7:15, attendees can consult individually with Mr. Hayden, or go on to tour the two homes currently being renovated.
The Historic Homes Preservation Group (HHPG) of the NMHS has been renovating homes in North Manchester for the past several years. They have renovated and sold 6 buildings, and currently own two homes under construction. The one at 404 W. 2nd Street is close to completion, and one at 110 N. Mill Street has been unoccupied for several years and is still in rough shape.
Indiana Landmarks is the state-wide organization that promotes the preservation of historic homes, businesses, neighborhoods, bridges and other structures. Through a partnership with the Efroymson Family Endangered Places Loan Fund, Indiana Landmarks has provided loans to the HHPG to cover renovation costs for two properties. The loans are interest-free for a year; HHPG has repaid its first loan (in record time!) and will repay the second as soon as the 2nd Street property is completed and sold.
We are delighted that expert Paul Hayden will be part of the program (an excellent speaker for a town with so many lovely Victorian homes) and think you will enjoy seeing the two current renovation projects.
---
NORTH MANCHESTER
HISTORICAL SOCIETY
MEMBERS FOR 2014
(as of April 11, 2014)
SUPPORTING MEMBERS
Donald and Sandra Billmaier
Tom and Eloise Brown
Brad and Terri Camp
Scott Carlin, Main View
Herb and Arlene Chinworth
Mary Chrastil
Jim and Evelyn Garman
Art and Ellen Gilbert
Dave Hippensteel, Riverbridge Electric
Gary Hogle
Don Kesler
John and Bea Knarr
Charles and Joan Koller
Manchester Veterinary Clinic
Ralph and Becky Naragon
Naragon & Purdy, Inc., CPAs
Newmarket Grocery Store
Mary Reahard
Viv Simmons
Dave and Jo Young Switzer
Robert Vanlandingham
Connie Vinton
Joe and Mary Vogel
Wetzel Insurance Agency
SUSTAINING MEMBERS
Bob Beachley
Judy Boyer
Robert and Ann Carroll
Larry and Mary Ann Cottrell
Eric and Jennifer Reichenbach
Nancy Sensibaugh
MEMBERS
Jim Adams and Thelma Rohrer
Gladys Airgood
Jane Ann and Tom Airgood
Allen County Public Library
Barb Amiss
David Bagwell
Ferne Baldwin
Steve Batzka
Jane Bellinger
Suzanne Benton
Charles and Dagny Boebel
Robert and Martha Bohn
Mary Louise Briner-Reist
Mary Lou Brown
Gordon and Darlene Bucher
Kenneth Burch
Dennis and Rosemary Butler
Robert and Ann Carroll
Dan and Marsha Croner
Lois Davis
Barry and Arlene Deardorff
Joan Deeter
Diane Dewey-Norvell
Eloise Eberly
Pat Egolf
Bernie and Vicki Farringer
Ron and Harriet Finney
Charles and Kathy French
Patricia Gaddis
Helen Anne Garber
Warren and Helen Garner
Judy Glasgow
Betty Hamlin
Ruth Hauser
Jeff and Kathy Hawkins
Ruth Hawley
Steve Hammer
Michael and Julia Hayes
Terry and Karen Hewitt
Tim and Roberta Hoffman
Linda Hyden
Carolyn Jones
Pete and Susan Jones
Robert and Stephanie Jones
Joyce Joy
Grace Kester
Charles and Susie Klingler
Avonne Knecht
Jeanette Lahman
Laketon Lions Club
Margaret Lambert
Carl and Lois Lemna
Elaine Leonhard
Richard Livingston
Lindy and Norma Lybarger
Wilbur McFadden
Mike McLaughlin
Karl and Bonnie Dee Merritt
Patricia Metzger
Jane Middlekauff
Carol Miller
Ed and Martha Miller
Larry and Norma Milligan
Jim and Shirley Mishler
Earl and Phyllis Montel
Bob Nelson
Don Olinger
Phil and Mary Orpurt
Walter and Mary Jenet Penrod
Phyllis Pettit
Mark Phillabaum
Sheryl Poorman
Bruce and Marilyn Pottenger
Roger and Kathy Presl
Dave Randall, Werking Studio
Carolyn Reed
Nancy Reed
Steve Reiff
Jean Renschler
Todd and Linda Richards
David and Shirley Rogers
Betty Roser
Esther Rupel
JoAnn Schall
Al and Ruth Ann Schlitt
Jack and Nancy Schuler
Rita Schroll
Barbara Shoemaker
Valynnda Slack
Owen and Martha Sommers
Dan and Barbara Speicher
Bill and Becky Steele
James and Barbara Stewart
Jean Stone
Larry and Mary Ann Swihart
Helen Taylor
Nancy Taylor
Tim and Jenny Taylor
Nancy Tiger
Susan Trowbridge
Mary Uhrig
Carolyn Underwood
Doretta Urschel
Grace Voorheis
David and Becky Waas
Helga Walsh
Bob Weimer
Sally Welborn
Eddie and Janice Wood
Frances Wright
Roland Young and Monie Harley
LIFE MEMBERS
First Financial Bank
Richard Ford
Larry Freels
David and Jane Grandstaff
HF Group
Carol Jennings
Harold and Elizabeth Marks
Mike and Kelly McKee
Evelyn Niswander
Roger and Marcie Parker
Shepherd Chevrolet
Paul Sites
Strauss, Inc.
Wabash Foundry
Allan White
Dannie and Nancy Wible
If you made a donation to the Annual Fund but did not become a member, you will not be listed here, but will be listed when we thank our Annual Fund supporters. Members receive specific benefits such as free admission to the Center for History. THANKS FOR ALL YOUR SUPPORT!
---
LIEGH B. FREED, MUSIC PUBLISHER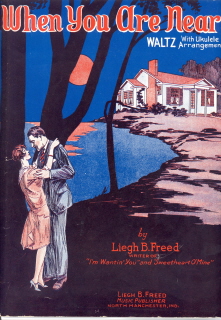 1928-1933 copyright--sheet music,
Liegh B. Freed, N. Manchester