NEWSLETTER OF THE NORTH MANCHESTER HISTORICAL SOCIETY, MAY 2016
THE STORY OF THE MANCHESTER CHIME
by Lila Hammer
The ringing of the chime is one of the longest running traditions at Manchester University. People come and go; buildings come and go; pranks and causes come and go, but the bells ring on - as they have for the past 93 years. New students are surprised; visitors stand in awe; alumni reminisce; the local community nods and checks their watches; the students groan. The sound of the bells is woven into the fabric of North Manchester and the University.
The ten bells that make up the Manchester Chime are each inscribed with scripture verses or phrases that speak to the values and ideals of the Manchester community throughout its history…values and ideals dear to the graduates and friends who raised the funds for the set of bells in 1922, and values and ideals that are important to those of us who continue to teach, encourage, and guide students today. Those inscriptions are: Christian Education; Praise: Gloria Patria; Devotion; Peace; Brotherhood; John 3:16; Hope; Faith; Evangelism; and Watchfulness.
In 1922, the Bible School Building and Bumgardner Hall on the campus were linked with new construction. Bumgardner Hall, built in 1889, was and is the oldest building on campus. This new construction created a spacious, updated facility named the Administration Building, which included a large library, numerous classrooms, offices, a large auditorium, and a tower. Vernon Schwalm was the Academic Dean at this time. Inspired by a suggestion from Mrs. Schwalm, an alumni committee led by Aaron Ulrey began raising funds. By 1920 they had raised $8,700 for a set of bells. B.F. and Sadie Wampler traveled to the McShane Bell Foundry in Baltimore, Maryland in May of 1922 to purchase the bells.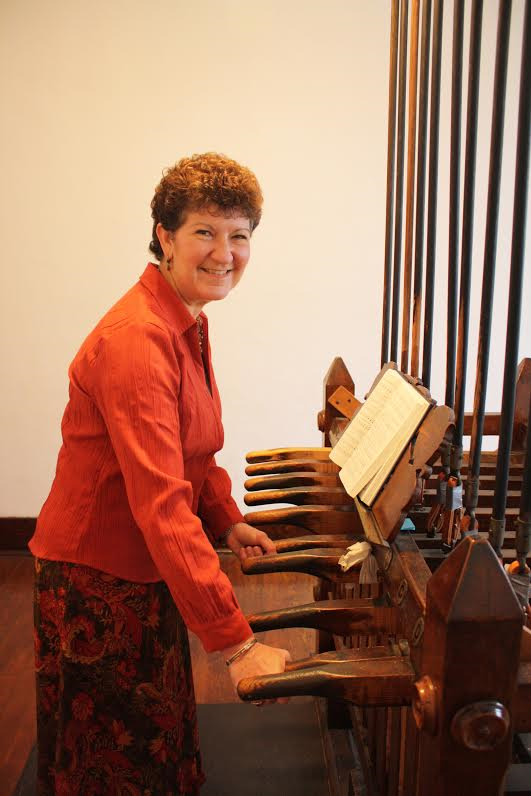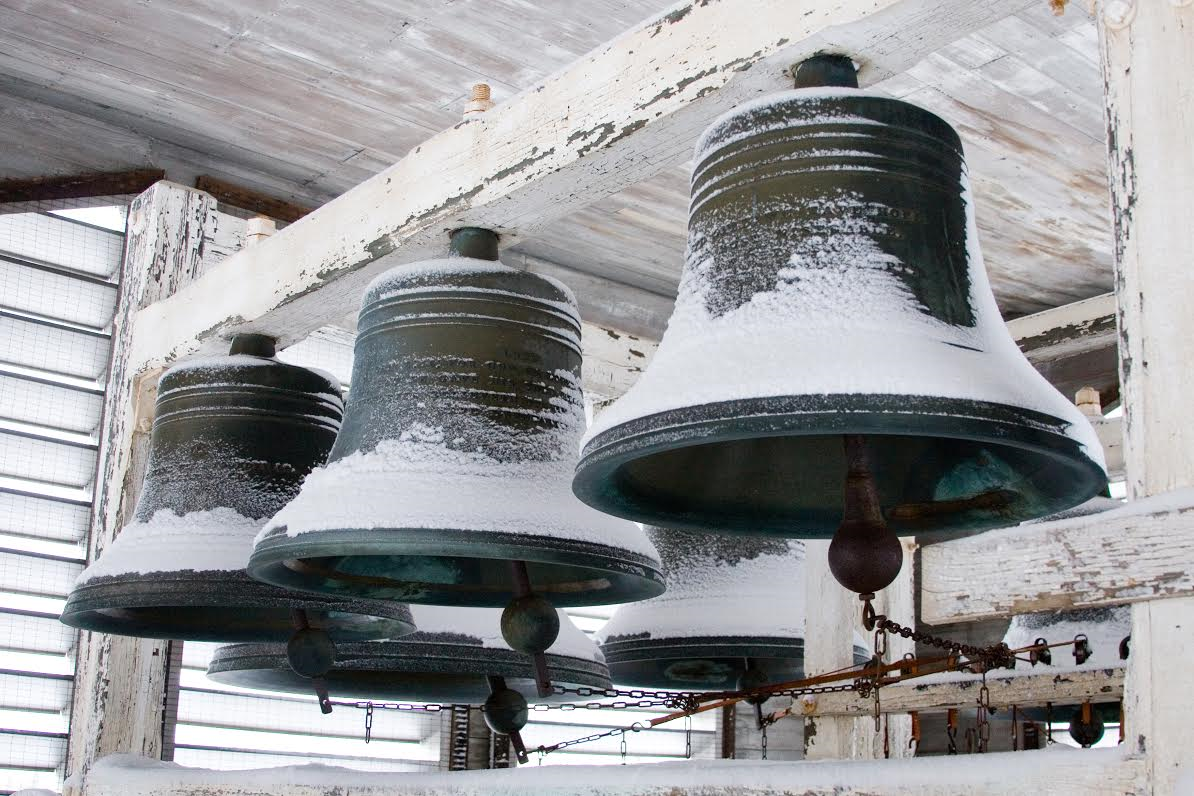 Our bells arrived in early August of 1922 and were displayed on a special stand in front of the main entrance of the Administration Building. On August 11, hundreds of people came to help hoist the bells into place.
President Otho Winger led a dedication service of the Manchester College Chime on August 15, 1922. It was reported then as the largest crowd ever gathered at the College until that time. To celebrate the 90th anniversary of the Chime, I was honored to be invited to play along with five student chimers in a 30-minute recital presented at Homecoming in October of 2012.
The Manchester Chime consists of ten bells, which form one octave, the flattened 7th and a major second above the octave – C – D – E – F – G – A – B flat – B – C - D. This set of notes limits the selections to those melodies arranged in the keys of C major & F major. So, if you hear a melody that doesn't quite sound like you're used to hearing – it could be that the melody has been adapted to the notes that the bells can sound.
Originally, the bells were played using a mechanical keyboard device located in the northeast corner of the first floor of the Administration Building. The keyboard had two rows of keys, one for playing the bells loudly, and one for playing them softly. Large electro-magnets pulled clappers to strike the bells, draining electricity and dimming the lights anywhere near the College. Within a year of installation, the keyboard was removed. The combination of the electrical demand and mechanical malfunctions proved this method of playing the bells was not acceptable.
The second and current method for playing the Chime uses push hand levers, or batons, located in a room directly below the bells. The levers are attached to wooden rods that reach up through the ceiling and attach to chains. The chains then connect to leather straps which are connected to the clappers in the bell chamber, or belfry. Pushing down the lever pulls the clapper against the bell. Thus, the bells do not move, only the clappers move. A striker on the outside of a bell is called a hammer, rather than a clapper.
The bells range in weight from 550 to 2650 pounds. As a chimer, it is a little unnerving to know that several tons of cast bronze are directly over your head each time you play! However, it is comforting to know that the bells do not swing!
That series of levers, chains and leather straps have been the focus of pranksters on campus for years. Students have been known to dismantle the straps and levers and scatter them around campus, or "rearrange" the straps to different clappers. I knew as soon as I pushed down a lever and the wrong bell rang, that someone had "visited" the tower. Clappers have come up mysteriously "missing." And, of course there was the occasional middle-of-the-night performance. That required a quick get-away by the pranksters. Because the Chime resonates across campus, security officers would often get to the Administration Building before the culprit could flee.
Traditions surrounding the bells have come and gone. At one time the bells were played at 6 am … until our neighbors complained about the early wake-up call. Now, the bells are played at 7:45 am and 6 pm. Secular selections are played in the morning, and sacred pieces are played in the evening. Into the 60's the school song was played after sporting events. If played like a dirge, it meant the College had lost. If we won, the song was played briskly and the score was rung at the end. One low note represented five points and one high note represented one point. Perhaps the scores of games were lower than they are now!
Through the years, the bells have been played prior to Commencement, for weddings, memorial services and special concerts for alumni or visitors. Three of my most memorable chime recitals were tolling the bell in mourning with hundreds of other chimers across the country after 9/11, and playing for the memorial services of President A. Blair Helman and Professor Ken Brown.
Each chimer has favorite music to play; and pieces we won't play. I would not play "Are you sleeping, Brother John" in the mornings when I was in college. I don't remember playing the College's Alma Mater much when I played, but now it's one of my favorites. My other favorites are "Let There Be Peace On Earth," "Simple Gifts," and "In the Bleak Mid-winter." Chimers often are asked to play for someone's birthday, or other special events. For instance, I remember hearing the Star Wars theme music on the 20th anniversary of the original movie. And, I always like to hear "Take Me Out to the Ballgame" on opening day of the baseball season. Of course, everyone loves to hear Christmas carols played on the bells – we often hear them on a hot fall day. And sometimes, we hear Gershwin's "Summertime" on a blustery winter day. Until recently, we had only one student chimer, but now several rotate so the same person does not have to get up early every day. Some change is good!
Above the bells, on the highest point of the Administration Building, is a beautiful view of campus and surrounding neighborhoods. Each fall Professor Greg Clark takes students in his physics classes to the very top of the Administration Building to take various measurements of dropped tennis balls – I don't believe there is any egg dropping though!
The McShane Bell Foundry, where our bells were cast, still exists. It is the last survivor of the seven historic American bell foundaries known to have made chimes. The McShane Bell Foundry was started by Henry McShane (1833 – 89). He emigrated from Dundalk, Ireland in 1847. After working for the Baltimore brass foundry of Clampitt & Regester for several years, he established his own bell and brassworks in 1856.
Much of the McShane work now is refurbishment, but more than 300,000 large bells manufactured by the company hang in churches, city halls, statehouses, fire stations, and, as we know, colleges, throughout all 50 states and in at least seven foreign countries. The company makes bells today much the same way they were made in the 1800s - using mammoth cast-iron molds.
About ten years ago I researched what our bells would cost now. The McShane bells ranged in cost from more than $3000 for a 100-pounder to over $13,000 for a 1000-pound model. I estimated the cost for our bells alone would be around $145,000 – not including the keyboard mechanism or installation. In the summer of 2010, I had the opportunity to show our Chime to the great-grandson of one of the McShane Bell Foundry founders. He was very impressed with the condition of the instrument, and it was obvious by the way he touched our bells that he admired them as much as we do.
I was visited by a representative of The Guild of Carillonneurs in North America in the summer of 2004. He heard about our chime while attending a conference at the Culver Academy. He decided to drive to North Manchester and see if he could find someone who would show him the bells. Someone on campus directed him to me. He took pictures, measured the bells, and reviewed the history I shared. After confirming the information I provided, our Chime was approved to be added to the Tower Bells section of the Guild, and our information is included on The Guild of Carillonneurs in North America website along with ten other chime locations in Indiana.
I'm often asked what is the difference between a chime and a carillon. A carillon consists of a series of at least 23 tuned bells (two octaves) and is played from a keyboard, with some of the larger bells connected to foot pedals. Unlike a chime, the bells of a carillon are designed to be sounded together in chords. An instrument with fewer than 23 bells, but at least 8 to make a full octave, is called a chime. Although chimes are found around the world, there were a large number installed in the United States in the 19th century. About 700 chimes are known in the United States, and more than 500 in the rest of the world. Our chime is in the Tower Bells category.
What is next for our beautiful instrument? Funds are being raised to refurbishing the bells and relocate them to a new tower to be located near the fountain – another cherished fixture on campus. A part of the fund raising effort is also directed at adding bells to expand the range of notes.
The Chime is an integral part of the life at Manchester – one that I hope lasts for at least another 93 years!
Lila Hammer resides in North Manchester, Indiana. She studied music education at Manchester College and graduated in 1979. Lila completed a Master of Science degree in Professional Communication from Purdue University in 1993. She currently serves as Registrar for Manchester University. This article is based on a presentation to the Manchester Historical Society in February of 2016.
---
JOHN TIPTON'S POLITICAL ADVICE TO HIS SON IN 1836
[original spelling mostly retained, with explanatory notes in brackets]
John Tipton to Spear S. Tipton, February 4, 1836 [Tipton Papers I:221]: ...a politician shoud never conceal his opinions on proper subjects but be discreet on all. [p. 241-242]: …but if you 4 run [decide to run], K [i..e. James H. Kintner] will be elected. As you went into the Harrison convention stick to that side, avow it every where, and if a candidate say that your own individual vote is for Harrison, but if elected you will vote for any man for U S Senator that a majority of the County will instruct you to go for, that you do not know the Candidates and are uncommitted. Moderate men can desire no more. I woud advise you to say let who may be elected president that you will give his measures a fair support where ever they are for the good of your Country. …you must look to the Country people, not the Town, for your election. …the decided opposition of the news paper in Town will help you, but in all you say or do act with high honour do not expect to die with one election, nor do I think that you need hope for success this time but I am so much of a stranger that I am not a competent Judge.
[Ibid, p. 274, May 4, 1836] MY SON …on considering who your opponents now are I incline to the opinion that your election may be secured by some prudence and exertion. If you have given no pledges how you will vote for u s senator I advise you to be carefull. It may be best to say that you will vote for u s senator who is for the candidate for president who recives the vote of Cass County. …it will leave you to do what is your duty, to obey your constituents. A pledge to go with your County will most probably satisfy all on that head, but say nothing if you have not declared until Eldridge is pledged to one party. He is faithless and wicked. …I woud be carefull about pledges except the Genl one to obey the instructions of your County, and to improve the Michigan road. You shoud not urge your own claims Just say that you do not know what you can do as a legislator until tried. As to their objections about your age [Spear was 22 years of age in 1836] say that you will be older by & by that cant hert you now. Be carefull to say nothing disparageing of your competitors be carefull to do nothing in this convass to injure you in another and one defeate wont hert you—
<><><><><>
John Tipton (1786-1839) was serving as U.S. Senator from Indiana when he offered his advice to his son. John Tipton had been Indian Agent for the Potawatomi and Miami tribes. While in the Senate, Tipton served on the Committee on Roads and Canals and the Committee on Indian Affairs. Tipton platted the city of Logansport in 1828; and was the "founder and owner of La Gro" [Helm, History of Wabash County, p. 341]. The naming of Tipton County, city of Tipton, Tipton Township in Cass County, and Tipton Masonic Lodge No. 33 all pay tribute to the remarkable life of John Tipton. His son Spear Tipton (1814-1847) lost his life in the Mexican War.
---
FACT-CHECKING HELM'S
1884 HISTORY OF WABASH COUNTY
by John Knarr
Historians and researchers must proceed with utmost caution in reading some of the older county histories. While the various chapters were laden with detail, an accurate understanding can often be undermined by the imagined anecdotal events and some questionable "facts" which were unsourced.
For instance, the author of Helm's History makes reference [pp. 287-288] to drunken Indians terrorizing the John Comstock family of Liberty Mills in 1836:
"In August [1836], while Mr. Comstock was two miles distant from home making marsh hay, some drunken Indians of the Pattawatomie tribe, in war-paint and heads decorated with feathers, came galloping along on their ponies, causing the very woods to ring with their savage yells. Indian Bill, of this party, stopped at the cabin, dismounted and entered, when casting around and seeing some bottles of medicine upon a shelf, he demanded of Mrs. Comstock some "goodentosh." Being refused, he drew his knife and brandished his tomahawk over her head, swearing he would kill her if she did not give him "goodentosh." Then she coolly told him that unless he behaved, she would 'call white man,' and went to the door calling loudly for John. This had the desired effect, for although John was two miles distant, Indian Bill mounted his pony, and was soon lost in the woods. These Indians were on their way to the burial of one of their tribe who had been killed in an affray about two and a half miles northeast of Liberty Mills while they were returning from receiving their annuity at Fort Wayne."
FACT-CHECK: In 1836 the Potawatomi tribe would not have been going to Fort Wayne for their annuities. The Indian Agency was moved from Fort Wayne to Logansport in 1828. As U.S. Indian Agent, John Tipton had recommended such a transfer in February 1827 and was given authorization by the Department of War in March 14, 1828 to make this removal. [Tipton Papers II: 31, 84] When Helm's Wabash county history was written in 1884, neither John Comstock (1802-1879) nor his wife Salena (1800-1878) were living.
In yet another instance of "imaginary history", it was claimed on page 296 in Helm's History that John B. Ridgley "participated in the battles of Island No. 10, Port Gibson, Champion Hills, the siege of Vicksburg and Jackson, Miss., and others of less note."
FACT-CHECK: Most of the Civil War battles aforementioned actually took place after John B. Ridgley was discharged from the military on February 14, 1863. The Battle of Port Gibson was fought on May 1, 1863; the Battle of Champion Hill, the pivotal battle in the Vicksburg Campaign, was fought on May 16, 1863. Corporal John B. Ridgley was discharged due to disability; he apparently lost his eyesight having contracted an eye infection. [Report Adj Gen Indiana, Vol. V, 1866, p. 431; enlisted men of Co B IN 47th Reg Inf] John B. Ridgley married Nancy Ridgley after the Civil War in 1865, and she had a millinery business in North Manchester on the north side of Main Street. Ridgley had built the tall building at 108 E. Main that later became the Blackmore Cigar factory (1920-1923). A direct descendant now living in the state of Nevada recently notified our Center for History that although John B. Ridgley died at the home of his son Bertram in Chicago, he was buried in Oaklawn Cemetery, along with his wife and daughter. There is no gravestone for John and no Civil War marker honoring his service; neither is there a stone for the daughter. Only a flat grave marker exists for Nancy J. Ridgley (1842-1915).
---
<><><><><>
THE TWO KINTNER BROTHERS AND GENERAL JOHN TIPTON
by John Knarr
As a researcher in family genealogy, I have often wondered how two Kintners appeared on the 1826 treaty ground at Paradise Springs (Wabash). After all, my mother was a Kintner, and I knew there was a distant family relationship (Frederick & James Kintner are Second Cousins to myself 5x removed). A map of the Treaty Grounds for October of 1826 depicted Capt. Kintner's Quarters adjacent to those of Gen. Tipton, Gen. Cass and Gov. Ray on one side and the Soldiers' Tents on the other. Moreover, on older Wabash county maps, there was a creek named after the Kintners. The county, in apparent disregard for family pride and our pioneer history, later decided to rename Kintner Creek to Sharp Creek. Since an elementary school was adjacent to this creek, we have a Sharp Creek Elementary (where my wife once taught), and not Kintner Creek Elementary School.
In 1826 Tipton was appointed by President John Quincy Adams as U.S. commissioner to enter into treaties for cession of their lands. To understand how Frederick R. Kintner and his younger brother James H. Kintner ended up at the Treaty Grounds in 1826, one really needs to dig deeply into the earliest period of Indiana history and the prominent role played by John Tipton.
Both the Tipton and Kintner families originated in Virginia. Tipton had arrived in southern Indiana Territory in the fall of 1807 via Sevier County, East Tennessee, and the Kintners came circa 1820 via Washington County in southwestern Pennsylvania.
Harrison County on the Ohio River was the "birthplace" for the state of Indiana. It was there that the Kintners and Tiptons converged. These persons were to move together to locales along the Wabash River in Wabash County and Cass County. Early in his military career, Tipton had responsibilities for the militia and the guards along the Buffalo Trace between Harrison County and Vincennes. Tipton was elected in 1816 the first sheriff of Harrison County.
The Kintners came to Logansport in March 1828. James H. Kintner served (1830-1834) as sheriff of Cass County and mayor of Logansport (1845, 1846, 1849). The Kintners were Indian traders and Tipton had been appointed in 1823 by President Monroe, the U.S. Indian Agent for the Miamis and Potawatomis of the upper Wabash, Tippecanoe and Yellow river country. Tipton established the seat of the agency at Ft. Wayne, and then moved it to Logansport in 1828 where he had taken up residence. Tipton and Kintner were charter members (1828) of the Masonic Lodge in Logansport, Tipton Lodge No. 33, F. & A.M. [see Joseph E. Crain, Historical Abridgment of Essenes and Antiquity of Free Masonry—Organization and History of Tipton Lodge No. 33, F.&A.M.] While at Corydon, Tipton was made a Master Mason in Pisgah Lodge No. 5 in 1817, and soon after was elected "Worshipful Master of the Lodge". At the state masonic level Tipton was elected Senior Grand Warden (1818) and Grand Master (1820).
John Tipton's mother was Janet [Jennie] Shields, sister to John Shields. Tipton's middle name was Shields. He then married Martha Shields, daughter of John Shields, who had been on the Lewis-Clark expedition. John Shields was the oldest (35 years) among the 29 participants, and he was the only married male, the sole exception to the "rule" that only unmarried persons could join the expedition. On John Shields' gravestone is this inscription: " JOHN SHIELDS PVT. U.S. ARMY 1769-1809. As a member of Lewis & Clark's Corps of Discovery, Pvt. Shields' abilities as a scout, hunter, gunsmith, blacksmith & mechanic helped them complete one of the most amazing & challenging journeys in American history". Tipton's son Spear Tipton also carried the middle name of Shields. Jacob Lamb Kintner (1808-1870) married Elizabeth Graham Shields in Harrison County. So there were plenty of family connections, as well as business and military ties between the Kintners and John Tipton.
In the Tipton Papers, we discover that Tipton actually hauled the belongings of the Kintners northward to Fort Wayne [Tipton Papers I: 421-423]. Gen. Tipton offered the Kintners the opportunity to furnish the necessary leather goods such as saddles, bridles, surcingles, saddle bags, harness and other leather items to be used by the military or as presents to the Indians [Tipton Papers I:487-493]. On June 4, 1827, Tipton placed a large order with the Kintners for 50 saddles, 100 bridles, 20 pair saddle bags [Ibid, 726]. The Kintners also received payment from Tipton for serving as guards at the payment of annuities to the Indians [Tipton Papers II:101]. For 40 days' service at the Treaty Grounds in 1826, each of the Kintner brothers received $35.00 [Tipton Papers I:575,fn77].
---
NORTH MANCHESTER
HISTORICAL SOCIETY
MEMBERS FOR 2016
SUPPORTING MEMBERS
Tom and Eloise Brown
Dennis and Rosemary Butler
Brad and Terri Camp
Jim and Debbie Chinworth
Mary Chrastil
Bernie and Vicki Ferringer
Rita Gable
Art and Ellen Gilbert
Steve and Lila Hammer
HF Group
Dave Hippensteel, Riverbridge Electric
Pete and Susan Jones
John and Bea Knarr
Manchester Veterinary Clinic
Dan and Susan Manwaring
Carol Miller
Moose Family Center #1518 N
Jim Myer
Daniel and Tracy Myers
Ralph and Becky Naragon
Newmarket Grocery Store
Gary and Karen Runkel
Nancy Sensibaugh
Jon and Susanne Siebrase
Viv Simmons
Connie Vinton
Joe and Mary Vogel
David and Becky Waas
Wetzel Insurance Agency
SUSTAINING MEMBERS
<![if !supportLineBreakNewLine]>
<![endif]>
Myrl Bob Beachley
Joan Deeter
Warren and Helen Garner
William Hankee, DDS
Lindy and Norma Lybarger
Eric and Jennifer Reichenbach
Esther Rupel
Tim and Jenny Taylor
Grace Voorheis
MEMBERS
<![if !supportLineBreakNewLine]>
<![endif]>
Jim Adams and Thelma Rohrer
Gladys Airgood
Jane Ann and Tom Airgood
Barb Amiss
Bob Amiss
Richard Anderson
Ruthann Angle
David Bagwell
Ferne Baldwin
Steve Batzka
Mike and Angie Beauchamp
Angilee Beery
Jane Bellinger
Sandy Bendsen
Suzanne Benton
Charles and Dagny Boebel
Bob and Martha Bowman
Gregory Bowman
Mary Louise Briner-Reist
Judi Brown
Mary Lou Brown
Kenneth Burch
Dan and Marsha Croner
Lois Davis
Barry and Arlene Deardorff
Paula Dee
Diane Dewey-Norvell
Eloise Eberly
Pat Egolf
Epsilon Sigma Number 1609
Ron and Harriet Finney
Michael and Marsha Flora
Patricia Gaddis
Dean and Kae Gifford
Christine Good
David and Patty Grant
Betty Hamlin
Mona Harley and Roland Young
Ruth Hauser
Stewart and Ruth Hawley
Terry and Karen Hewitt
Pam Higgins and Steve Naragon
Bonnie Hileman
Tim and Roberta Hoffman
Melba Holmgren
Linda Hyden
Diana and Darrin Iden
Carolyn Jones
Robert and Stephanie Jones
Joyce Joy
Donn Kesler
Grace Kester
Charles and Susie Klingler
Avonne Knecht
Jeanette Lahman
Karen Leckrone
Carl and Lois Lemna
Elaine Leonhard
Earl and Janet McKinley
Mike McLaughlin
Bonnie Dee Merritt
Patricia Metzger
Regina Metzger
Jane Middlekauff
Irene Migliorini
Ed and Martha Miller
David and Joyce Mills
Jim and Shirley Mishler
Sandra Mitting
Don Olinger
Phil and Mary Orpurt
Dianne and Chris Pearson
Phyllis Pettit
Sheryl Poorman
Bruce and Marilyn Pottenger
Roger and Kathy Presl
Dave Randall, Werking Studio
Nancy Reed
Jolene Reiff
Steve Reiff
Jim and Linda Renz
Todd and Linda Richards
David and Shirley Rogers
James Ross
JoAnn Schall
Rita Schroll
Jack and Nancy Schuler
Robert and Robin Shepherd
Barbara Shoemaker
Ryan Sincroft
Valynnda Slack
Lorraine Slifer
Graydon and Lois Snyder
Dan and Barbara Speicher
William and Becky Steele
NORTH MANCHESTER HISTORICAL SOCIETY
2016 Board Members
Ferne Baldwin
Tom Brown
Mary Chrastil, President
Bernie Ferringer
Karen Hewitt, Secretary
John Knarr
Jim Myer
Kathy Prater
Dave Randall
Tim Taylor
Joe Vogel, Vice President
David Waas
Ex Officio--Paula Dee, Joyce Joy, Ralph Naragon, Treasurer