Sou
rce: North Manchester News-Journal, Feb 10, 2010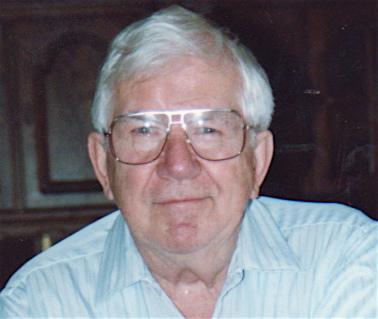 Paul E. Grandstaff, 92, of North Manchester, Indiana died at 6:48pm Thursday, February 4, 2010 at Peabody Healthcare Center in North Manchester. He was born April 20, 1917 in Peru, Indiana to Oren and Clara (Becker) Grandstaff.
Paul married Mary Alice Flenar in North Manchester, on April 17, 1938; she died July 18, 2009. He was a 1935 graduate of Laketon High School, and owned and operated Grandstaff Rendering Service for 47 years, retiring in 1982. He was a member of the Zion Evangelical Lutheran Church, Kiwanis Club, Deming Masonic Lodge #88, and the Eel River Shrine Club, all of North Manchester. He also was a member of the Fort Wayne Scottish Rite, and Mizpah Shrine. Paul and his wife, Mary were unique ministers to Manchester College students for Sunday evening meals in their home. He was a consummate bread maker. Paul had lived at Peabody Retirement Community since 2005.
He is survived by four children, David (Jane) Grandstaff of North Manchester, Dr. Daniel (Carolyn Worthington) Grandstaff of Chapel Hill, NC, Rebecca Kilgore of Charles City, VA, and Nancy Straka of Huntington, IN; former daughter-in-law, Patt Grandstaff of Durham, NC, seven grandchildren, Erin (Steve) Jungbauer of Leesburg, IN, Penny (Rick) Ruppert of Rochester, IN, Peter Grandstaff of Hillsborough, NC, Lucas (Chelsi) Straka and Ben (Racheal) Straka, both of Huntington, Charles Barda of Richmond, VA, and Paul Kilgore of Midlothian, VA; 12 great-grandchildren. He was preceded in death by two bothers, one sister, and his grandson Jeffrey Grandstaff who died in 1993.
Funeral services were held at Zion Evangelical Lutheran Church, 113 W. Main Street, North Manchester on Wednesday, February 10, 2010 at 11:00 a.m. with Pastor Jeff Hawkins and Deaconness Sabine Thomas officiating. Burial was in Oaklawn Cemetery, North Manchester.
Preferred memorial is Zion Evangelical Lutheran Church or Manchester College.
---