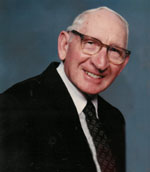 Richard H. Knarr, 95, a resident of Peabody Retirement Community of North Manchester, died at 2 p.m. Tuesday, April 6, 2010 at the Hospice Home, Fort Wayne where he was admitted on Saturday.

He was born October 29, 1914 in Pulaski, Indiana a son of Harley and Hulda (Herrick) Knarr. He graduated from Winamac High School in 1933, received his Bachelors degree from Manchester College in 1948 and Masters degree from Ball State University in 1960.

On June 1, 1941 he was united in marriage to Irene E. Kintner in Sherwood, Ohio.

A United States Army veteran, during World War II he served in the 87th Division Artillery of the Third Army. He participated in four campaigns, Saar Valley, Battle of the Bulge, Rhineland and Central Germany while serving under General Patton. He was honorably discharged November 7, 1945.

He taught school for 38 years in Pulaski, Fulton, Wabash and Whitley Counties, retiring in 1977 from Manchester Community School. He served as principal of Akron Elementary, South Whitley Elementary, Chester Elementary, Thomas Marshall Elementary, Maple Park Elementary, and Laketon Elementary Schools in Manchester Community School system.

An ordained minister with the Church of the Brethren for over 60 years, he served several churches in the area as part time or interim pastor: Sugar Creek, Andrews, Pleasant View, South Whitley, Akron, Columbia City, and Blue River.

His memberships included North Manchester Historical Society, Indiana Farm Bureau-Whitley County, Indiana Retired Teachers Associations and lifetime membership with National Education Association. He enjoyed writing poetry as a hobby and had five small booklets published. He authored books about his service in the military during World War II at the European front under General Patton and on Knarr Family History. He also chaired the committee that published the history of South Whitley.

Surviving relatives include his wife, Irene; seven children, John Knarr of North Manchester, Janet Hawthorne of Elizabethtown PA, Eva Caudill of Lafayette, Elaine Weinert of Middletown PA, Joyce Street of Lynnwood WA, Cheryl Thomas of Angola and Carol Knarr of Portland; 14 grandchildren; 16 great grandchildren; and two sisters, Dorothea Ottinger of Logansport and Donna Garver of Rochester.

He was preceded in death by three brothers.

A private service will be held Friday morning at Smith & Sons Funeral Home, Columbia City. The burial will be in South Whitley Cemetery. The public visitation will be from 2 to 4 and 6 to 8 p.m. Thursday at the funeral home.

Preferred memorials are to Heifer International.