Source: News-Journal
Betty Lee Krom (1936-2010)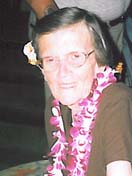 Betty Lee Krom, 74, North Manchester, IN died at 1:50 p.m. Monday, August 16, 2010 in Peabody Retirement Community, North Manchester, IN. She was born January 5, 1936 in Summit, New Jersey to Myron & Vera (Fanning) Krom.
She was executive president of The Residents Association at Peabody Retirement Community for 2 years, on the Spiritual Life Committee at Peabody and the Barely Used Committee and volunteered for the Barley Used Store and also volunteered for the Caring Circle. She served in the chapel choir. She was a member of the Presbyterian Church. Peabody was a blessing to Betty and her family. Betty's contribution to Peabody was a gift to restore The Singing Tower.
Surviving are a sister, Shirley (Leonard) Russo, Fairfield Glade, TN; six nieces and nephews and twelve great nieces and nephews.
Services will be held Wednesday August 18, 2010 at 10:00 a.m. in Peabody Chapel, 400 W. Seventh Street, North Manchester, IN. Friends and family may call one hour prior to services at Peabody Chapel. Rev. Sue Babovec will officiate and burial will follow in Fairview Cemetery, Servia, IN.
For those who wish to honor the memory of Betty Lee Krom, memorial contributions may be made to the Caring Circle at Peabody Retirement Community, 400 W. Seventh Street, North Manchester, IN 46962.