For further information contact Mary Chrastil, 260-982-0672, nmhistory@cinergymetro.net; or marygrace@hoosierlink.net
Historical Society Presents Program on Miami Tribe
From the time she was a little girl growing up near Arcola, Indiana, Dani Tippmann loved to learn from her mother and aunts about her Miami Tribe Native American roots. Today, she shares her heritage with her own family, school children and other groups.
The North Manchester Historical Society is pleased to present a program by Dani Tippmann and her daughter Gloria at 6:40 p.m. on Monday, August 11, in the Assembly Room at Timbercrest Senior Living Community, 2201 East Street. Tippmann will talk about Miami history and culture, with special emphasis on her love, the plants native to our area and their uses for food, medicine and everyday functions.
Tippmann is a citizen of the Miami Tribe of Oklahoma. She has been the Director of the Whitley County Museum for six years, and has worked in Whitley County for 26 years. She was artist in residence at the Eiteljorg Museum in Indianapolis, where she taught about her specialty, native plants and their uses. She has been married for 35 years, and has 10 children aged 34 to 14; she loves being called "Granny Dani" by her 25 grandchildren.
Dani became especially interested in learning about her Native American culture when her children were learning about Native Americans in school. Daughter Gloria has always been interested in her native heritage. She has been a Junior Head Lady Dancer twice at the Mihsihkinaahkwa Pow Wow held annually in Columbia City. In fact, the family will be participating in the pow wow the weekend before the Historical Society program. Gloria will demonstrate native dance steps and tell the history behind some of them. She performed recently at the Miami Indiana Heritage Day program at the Chief Richardville House.
The public is also invited to come to the Assembly Room at 6 p.m. for a meal prior to the program. For those who wish to attend the dinner, reservations must be made no later than noon on Friday, August 8. The cost of the meal is $8.50. Reservations may be made by calling Evelyn at 260-982-6777, Mary at 260-982-1813 or the Center for History at 260-982-0672. There is no cost for the program, which is free to the public. All are welcome.
Seal of the Miami Tribe of Oklahoma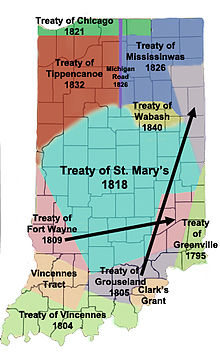 Significant Treaties with Native Americans during
the Early Days of Indiana and the Old Northwest Territory.