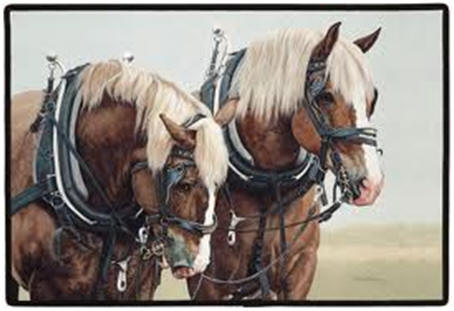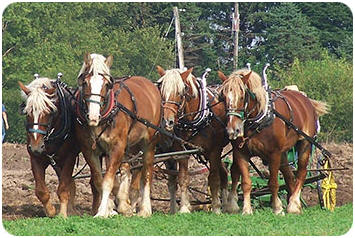 Press Release: Story of Belgian Draft Horse Corporation to Come to North Manchester

On October 14, the North Manchester Historical Society will present a program on the Belgian Draft Horse Corporation of America (BDHCA) by Vicki Knott, Executive Director. The American association of Belgian draft horses was founded in Wabash in 1887, and its corporate offices have remained there ever since. Changes in farming practices have affected the fortunes of Belgians, and all draft horses. World War I brought importation of European breed stock to a halt, and technology changes following World War II conspired to nearly end all draft horse breeding. Today, steady gains have restored the annual number of registered Belgians to record highs.

According to the BDHCA, Belgian Draft Horses outnumber all other draft breeds combined in the United States. Their history shows that Belgians are the most direct lineal descendants of the "Great Horse" of medieval times. Belgians are popular because they are "easy keepers" and willing workers with amiable dispositions.

Vicki Knott is a Wabash native and graduate of Huntington University and Indiana Tech. She has been employed with the BDHCA since 1984, and has served as Executive Director since 1995. She has helped to develop numerous programs including youth programs and awards and historical recognition and preservation.

The program will be held in the Assembly Room of Timbercrest Senior Living Community, 2201 East Street, at 6:40 p.m. There is no cost for the program, which is free to the public. All are welcome. While many attend only the program, the public is also invited to come to the Assembly Room at 6 p.m. for a meal prior to the presentation. For those who wish to attend the dinner, reservations must be made no later than noon on Friday, October 12. The cost of the meal is $8.50, $3.50 for those on the Timbercrest meal plan. Reservations may be made by calling Mary at 260-982-1813, Evelyn at 260-982-6777, or the Center for History at 260-982-0672.
---