North Manchester Historical Society Receives Outstanding Project Award from IHS
Indianapolis—The Indiana Historical Society (IHS) is pleased to announce that the North Manchester Historical Society (NMHS) has been named a winner of the 2013 Indiana History Outstanding Event or Project Award for "The Year of the Opera Curtain." NMHS will receive the award during IHS's annual Founders Day event on Monday, Dec. 2, at the Eugene and Marilyn Glick Indiana History Center, located at 450 W. Ohio St. in downtown Indianapolis.
The Indiana History Outstanding Event or Project Award is awarded to an organization for an exceptional educational event or history project implemented during the past year, either one-time or ongoing, which relates to that organization's mission. Examples include reenactments, publications, innovative media usage, exceptional teacher training, and displays or exhibitions.
In the process of restoring a 1910 opera curtain in NMHS's collection, staff discovered it was quite rare. Inspired by this, it planned a year-long celebration that included 14 events, including lectures, historical interpreters' performances, receptions, musical programs and the commissioning of both a contemporary opera curtain featuring local businesses and an original melodrama performed as part of the festivities.
Beyond having restored a rare and significant community artifact, "The Year of the Opera Curtain" fulfilled NMHS's role as the keeper of community memory and documenter of the community's values, fostering a spirit of community cooperation and pride involving other groups and organizations in its history programming.
All of the events were directed entirely by volunteers, and numerous community partners collaborated on the project. This included 18 businesses that sponsored the restoration of the old opera curtain and the creation of the new one, educational institutions from elementary school through college, and community arts organizations also played a significant role.
About the Indiana Historical Society
Since 1830, the Indiana Historical Society has been Indiana's Storyteller™, connecting people to the past by collecting, preserving, interpreting and sharing the state's history. A private, nonprofit membership organization, IHS maintains the nation's premier research library and archives on the history of Indiana and the Old Northwest. IHS also provides support and assistance to local museums and historical groups, publishes books and periodicals; sponsors teacher workshops; and provides youth, adult and family programming.
---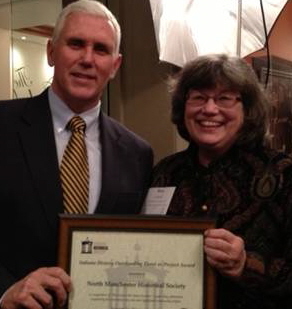 Governor Mike Pence congratulates North Manchester Historical Society President Mary Chrastil for winning the Indiana Historical Society Program or Event of the Year Award.
---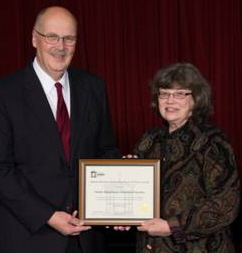 Indiana Historical Society Board Member Bill Bartelt presents the Program or Event of the Year Award to Mary Chrastil, President of the North Manchester Historical Society.
---