Press Release

For further information contact Mary Chrastil, 260-982-0672 nmhistory@cinergymetro.net; or marygrace@hoosierlink.net

Program on North Manchester Real Time at Historical Society

On Monday, February 9, the North Manchester Historical Society is pleased to present a program by Steve Olsen, who operates the very popular FaceBook page, North Manchester Real Time.

North Manchester Real Time is a page that deals with news, current events, community happenings and pictures of the North Manchester area. Launched on July 6, 2012, the page has established a local following. As the world has moved toward using electronic media, the site has become the "go to" resource for local news. With its emphasis on pictures and other visual images, it is an appealing and informative resource.

Steve Olsen created and maintains this as a community page. A retired police officer, Olsen's interest in photography was inspired by his brother, an active photographer. Olsen will give a power point presentation on the events leading up to the creation of the page, show some pictures that changed the dynamics of the page, and present some pictures that have been featured. Other pictures from Olsen's collection will also be shown.

The program will be held in the Assembly Room of Timbercrest Senior Living Community, 2201 East Street, at 6:40 p.m. There is no cost for the program, which is free to the public. All are welcome. While many attend only the program, the public is also invited to come to the Assembly Room at 6 p.m. for a meal prior to the program. For those who wish to attend the dinner, reservations must be made no later than noon on Friday, February 6. The cost of the meal is $8.50, $3.50 for those on the Timbercrest meal plan. The menu is baked chicken breast, rice pilaf, peas and carrots, tossed salad and cherry pie. Reservations may be made by calling Evelyn at 260-982-6777, Mary at 260-982-1813 or the Center for History at 260-982-0672.
---
The following picture comes from the masthead of the North Manchester Real Time web site.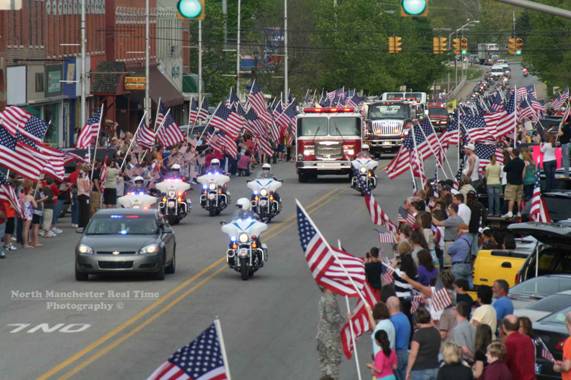 ---