Press Release Event Date: February 13, 2017
For further information contact Mary Chrastil, 260-982-0672 nmhistory@cinergymetro.net
Presidents Month Program at NM Historical Society
On Monday, February 13, the North Manchester Historical Society is pleased to host teacher and historical interpreter Matt Barnett, who will appear as Thomas Lincoln, the father of President Abraham Lincoln. The program will be held in the Assembly Room at Timbercrest Retirement Center, 2201 East Street, at 6:30 p.m. It is open to the public at no cost and will be enjoyable for audiences of all ages. The Historical Society reports that speakers portraying historical characters are among their most popular programs each year.
Thomas Lincoln was born in 1778 in Virginia to Abraham and Bethsheba Lincoln. The Lincolns moved in the 1780s to western Virginia, now Springfield, Kentucky. In the late 1780's the family moved to Nelson County, Kentucky. His father died when he was a boy, and Thomas Lincoln and his brothers had to make their own way. From 1795 to 1802, Thomas Lincoln held a variety of ill-paying jobs in several locations. He served in the state militia at the age of 19 and was active in community and church affairs in Hardin County.
He married Nancy Hanks in June 1806. Nancy taught young Abraham to read, and modeled "sweetness and benevolence." Abraham Lincoln said of her, "All that I am or hope ever to be I get from my mother." The family lived in extreme poverty, and Thomas moved them to Indiana in 1816. Abraham Lincoln claimed many years later that his father's move from Kentucky to Indiana was "partly on account of slavery, but chiefly on account of the difficulty of land titles in Kentucky." Abraham had a somewhat strained and unhappy relationship with his father, which some think led him to become a caring and indulgent parent.
Matt Barnett is a Junior High and High School teacher at Lewis Cass Jr. Sr. High School in Walton, IN and lives in Peru. Barnett has taught history in the public school system for 9½ years. He also enjoys reenacting historical characters for his students such as William Wells, a French and Indiana War militia member, George Washington, Lewis and Clark Expedition member, Henry Clay, Thomas Lincoln, and a 19th Indiana Infantry Civil War Soldier. He does many hands-on projects with his US History students, building a Miami Indian wigwam and a 14-foot dugout canoe, and playing 1860s baseball with students at a reconstructed Civil War campsite. Matt approaches teaching history from a storyteller perspective and declares "we have a great story to tell and it needs to be told well…If one wants to know what life was like 200 years ago in Indiana, they can look at the life of the Lincoln family living in Southern Indiana in 1816. Life was so different 200 years ago, but there are also some common threads that run through our Hoosier history."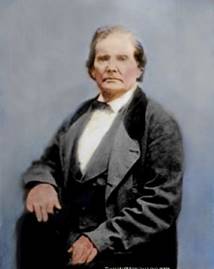 Thomas Lincoln, father of Abraham Lincoln.
---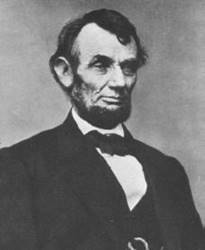 Abraham Lincoln
---
<![if !vml]>
<![endif]> Matt Barnett, historical interpreter of Thomas Lincoln.
---