Press Release Event Date: January 14, 2019
For further information contact Ariel Wagner, 260-982-0672 nmhistory@cinergymetro.net
On Monday, January 14, the North Manchester Historical Society will be having their annual meeting. Following the brief meeting there will be a showing of the documentary film The Story of the Black Swamp. The program will be held in the Timbercrest Assembly Room, North Manchester at 6:30 p.m. The meeting and movie night will be a fun, relaxing time for the community to come together and see what is happening at the Center for History, plus it is all free!
Did you know North America was once covered in ice? What happened after the ice melted? How did those prehistoric glaciers impact the land? The documentary, The Story of the Black Swamp, goes into details about how one of the largest wetlands in Ohio was created by glaciers and is now almost completely gone. Wetlands play an important role to the environment by being home to some unique creatures and plants, but also stopping erosion and drainage into other water systems. The Great Black Swamp covered a massive area of land, and went as far west as Fort Wayne, Indiana.
The documentary discusses the damages and problems Ohio has endured because of the devastation of the Great Black Swamp. The history of the Great Black Swamp is fascinating. The movie does a wonderful job of giving a detailed but entertaining story about the Great Black Swamp. Come learn how the Ottawa tribe utilized the Black Swamp's resources, how the settlers tried to tame the swamp by draining it, and how the damage done to the swamp negatively influences the environment today.
The program is open to the public at no cost and will be enjoyable for audiences of all ages. Come to see this quality production and learn more about a truly unique precious natural phenomenon practically in our back yard.
---
<![if !vml]>
<![endif]>
Historic Map of the Great Black Swamp. Created by Gary L. Franks for "The Maumee &
Western Reserve Road: Its History and a Survey of the Milestones" published in 2008.
<![if !vml]>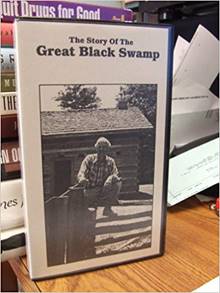 <![endif]>
The story of the Great Black Swamp: A television documentary produced by WBGU-TV,
Bowling Green, Ohio: Joseph A Arpad: Amazon.com: Books.
---