Historical Society to Present "The Humor of Lincoln"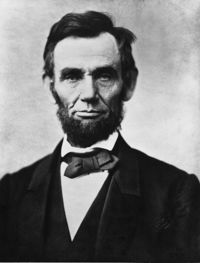 On Monday, February 11, the North Manchester Historical Society will present Wabash County Historian Ron Woodward who will present a program on the humor of Abraham Lincoln in the Assembly Room at Timbercrest. The program will begin at 6:40 p.m.
More books have been written about Lincoln than about any other President. According to Historical Society President Mary Chrastil, "Lincoln is a compelling and complex figure that continues to fascinate and inspire us today. Something like 16,000 books have been written about him. Just this week I listened to an interview about one more new Lincoln biography." Besides being one of the most admired U.S. Presidents, Lincoln was well known as a humorist and storyteller. His wit often places him with people like Samuel Johnson and Benjamin Franklin in collections of favorite quotations.
Ron Woodward is a former Wabash history teacher who has been an active advocate for the study of history for over 30 years. He served as president of the Wabash County Historical Society and Wabash County Genealogical Society. Since 1981 he has served as Wabash County Historian, an appointment made by the Indiana Historical Society and the Indiana Historical Bureau. He continues in that capacity today. Woodward was honored as 2000 Hoosier Historian by the Indiana Historical Society, and has written more than 30 books on local history and genealogy. "Ron is one of the most knowledgeable people about local history in our area," says Chrastil. "We always look forward to an interesting and entertaining evening when we are lucky enough have Ron on the program."
The public is also invited to come to the Assembly Room at 6 p.m. for a meal prior to the meeting. For those who wish to attend the dinner, reservations must be made no later than noon on Friday, February 8. The cost of the meal is $7.50. Reservations may be made by calling Mary at 260-982-1813 or Evelyn at 260-982-6777. There is no cost for the program, which is free to the public. All are welcome.
---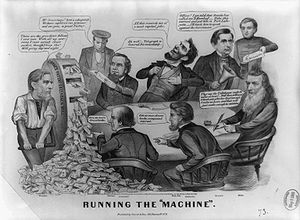 An 1864 anti-Lincoln political cartoon portrays Lincoln and his advisors raking in funds from the newly instituted income tax, established to pay for the Civil War.
---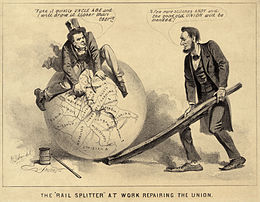 Newspaper cartoon from 1865 depicting Lincoln and Vice President Andrew Johnson titled The "Rail Splitter" at Work Repairing the Union." The caption reads: (Johnson) "Take it quietly Uncle Abe, and I will draw it closer than ever." (Lincoln) "
---