Press Release Event Date: March 13, 2017
For further information contact Mary Chrastil, 260-982-0672 nmhistory@cinergymetro.net
Award Winning Historian to Speak at NM Historical Society
On Monday, March 13, the North Manchester Historical Society is pleased to host Jean Gernand, who will present a program on area pioneer women, focusing on Huntington County Women. The program will be in the Assembly Room at Timbercrest Retirement Center, 2201 East Street, at 6:30 p.m. It is open to the public at no cost and will be enjoyable for audiences of all ages.
Says Mary Chrastil, Historical Society President, "We are very lucky to have Jean Gernand make a presentation to us. She has dedicated a lifetime to community service, and been a leader in so many types of historical endeavors they are almost too many to list! A dedicated educator, she has made history interesting and accessible to hundreds of students and thousands of area residents. In addition, her work in preserving historic buildings has been remarkable."
In 1975, while a teacher at Huntington North High School, Gernand reactivated the Junior Historical Society and introduced a school pioneer festival that has grown into the Forks of the Wabash Pioneer Festival, a two-day event drawing more than 20,000 visitors each year. Their next project was to restore the Miami Chief Richardville House, which earned a Young Preservations Award from the National Trust for Historic Preservation in 1978. Gernand was part of a group that organized Huntington Alert, a local historic preservation group that has saved numerous sites, including the restoration of the Hotel LaFontaine. She served as part of the committee that worked to revive Huntington's annual Heritage Days festival. With her research expertise, she helped develop a map listing more than 200 historic sites in Huntington County.
Gernand walks the walk as well as talking the talk. In 1987 she and her husband Robert purchased the Samuel Purviance House, which was listed as an endangered National Register property. They restored and renovated the home, opening a tea room in the house. They also purchased a dilapidated Victorian house across the street and renovated it, turning it into apartments.
Genand has been honored numerous times by local and state organizations. She received the Hubert Hawkins History Award from the Indiana Historical Society in 2008. She received the coveted SerVaas Award presented by Indiana Landmarks for the best preservation organization in the state and outstanding work to promote interest in historic preservation. She was presented one of Indiana's highest honors with the Distinguished Hoosier Award from Governor Mike Pence in 2014. In 2016, she received a Distinguished Service Award from her alma mater, Purdue University.
Says Chrastil, "The program on pioneer women should be very popular to our audience, giving true stories about our earliest settlers. And we expect that anyone interested in historic education and preservation will have lots of questions for her about her many activities in those arenas."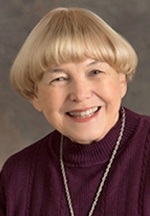 Jean Gernand, historian and historical interpreter.