Press Release Event Date: May 9, 2016
For further information contact Mary Chrastil, 260-982-0672 nmhistory@cinergymetro.net; or marygrace1066@gmail.com
And You Thought Presidential Elections Were Rough This Year!
On Monday, May 9, one week after the Indiana Primary Election, the North Manchester Historical Society is pleased to host actor and teacher Terry Lynch presenting Mudslinging, Muckraking and Apple Pie: Presidential Campaigns, the Great American Pastime. The program will be held in the Assembly Room at Timbercrest Retirement Center, 2201 East Street, at 6:40 p.m. There is no cost for the program.
It seems now more than ever, presidential campaigns are getting down and dirty. How did this campaign craziness get started? Believe it or not, elections have actually gotten more civil over the years! Don't believe it? In this program, hear stories of the mudslinging and muckraking of the Jefferson v. Adams campaign of 1800, the Jackson v. Adams of 1828, the Lincoln v. Douglas of 1860, and Grant v. ANYONE! Also covered in this program is the 1912 election of Teddy Roosevelt when he decided to start his OWN political party.
Lynch will provide stories of unscrupulous, malicious attacks against presidential candidates, their families and friends. These attacks were often carried out in the press and in speeches on the campaign trial.
Lynch has 20 years' experience as a professional actor in Chicagoland. He has trained at Northern Illinois University, Second City Training Center, and Improv Olympic. Lynch has appeared in many roles with Emerald City Theatre and spent seven seasons with AlphaBet Soup Productions Children's Theater. He and has performed in professional theater, radio and television around Chicago including Circle Theatre, Donny's Skybox, and National Pastime. He appeared on national television in an episode of Early Edition, with Kyle Chandler, and has most recently been heard in radio spots for St. Paul Federal in Chicago and St. Anthony's Children's Hospital in St. Louis.
A note to our friends: The North Manchester Historical Society has discontinued its tradition of hosting a meal before its monthly program.
---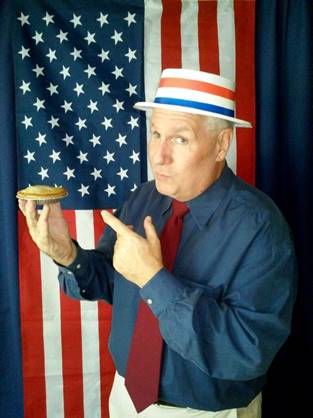 Terry Lynch has 20 years' experience as a professional actor in Chicagoland.
---
---