Press Release Event Date: November 12, 2018
For further information contact Mary Chrastil, 260-982-0672 nmhistory@cinergymetro.net; or marygrace1066@gmail.com
NM Historical Society Presents Pete Jones for November Program
On Monday, November 12, the North Manchester Historical Society is pleased to host popular historian Pete Jones for a program about frontier surveyors. The program will be held in the Assembly Room at Timbercrest Retirement Center, 2201 East Street, at 6:30 p.m. The program is open to the public at no cost.
Pete will address the significance of how surveyors provided an orderly manner for purchasing farmland in the undeveloped west. The Northwest Ordinance permitted legal ownership of land to the pioneers. The ordinance structured land and provided settlers with civil liberties. Pete will explain how surveys provide detailed information on what the land looked like before settlement. The rules set out in the Ordinance set the pattern for land sales in about three-fourths of all US lands.
Pete Jones taught for 38 years, most of that time teaching American History, English and journalism at Manchester High School. He retired in 1999. He served on the board of the Wabash Carnegie Library for 25 years. Currently on the board of the Wabash County Historical Museum, Jones writes a weekly history column for the Wabash Plain Dealer and has written a monthly column for the Ford Meter Box Company marketing department for 34 years. A sampling of these columns has been collected and published. Jones' articles have appeared in The Wall Street Journal and American History Magazine. In 2015, the Indiana Historical Society awarded Jones awarded the Hubert Hawkins History Award for his distinguished service and career in local history.
Jones is a well-regarded speaker and researcher whose relaxed and interesting narrative style makes his historical research seem more like a story, a "good yarn" that's engaging and appealing. His many past students and acquaintances will especially enjoy this program.
Contact the North Manchester Center for History at 260-982-0672, or nmhistory@cinergymetro.net for more information.
---
<![if !vml]>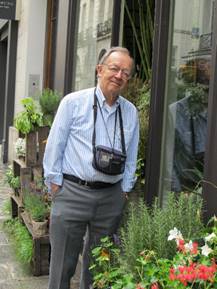 <![endif]> Pete Jones. Photo provided by NMHS.
---
<![if !vml]>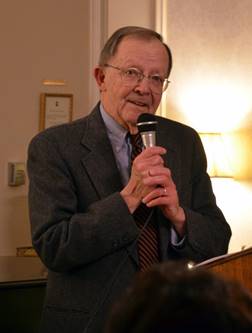 <![endif]> Pete Jones. Picture originally appeared in
The Paper of Wabash County.
---
<![if !vml]>
<![endif]> Wikipedia images of George
Washington as a young surveyor
---
<![if !vml]>
<![endif]>
---