Historical Society Special Bonus Program on Chautauqua; Professor Thelma Rohrer to Speak
Are you curious about that strange name, Chautauqua? Chautauquas were all the rage in the days before radio and television, and communities looked forward to them with great anticipation.
On Tuesday, October 30, the North Manchester Historical Society presents Manchester University Professor Thelma Rohrer in a special program on the Chautauqua Movement in the United States. The program is a special "bonus" program, an addition to the regular monthly lectures the Society presents at Timbercrest. It will be held at the Center for History, 122 E. Main Street, at 7:00 p.m. A Powerpoint presentation will illustrate the talk.
The Chautauqua learning community was established in Chautauqua, New York, in 1874 as a vacation learning experience for Sunday School teachers. It almost immediately broadened to include academic subjects, music, art and physical education. "Tent" or "circuit" Chautauquas traveled throughout the United States. The most distinguished speakers and lecturers of the time toured with the movement. The Chautauqua Institution continues today, where about 7,500 people attend daily, and over 140,000 visitors benefit from their 9-week summer program.
Professor Rohrer is Chair of the Department of Art at Manchester University, Director of the Honors Program, and Director of International Studies and Academic Enrichment. She has an extensive list of research and teaching experiences. Rohrer is in charge of study abroad opportunities and encourages students to "Study art. Explore the world!" She became interested in Chautauqua while writing about the artist Frank Beard for the American National Biography and the Ohio Artists Project, which led her to various research sites, including to Chautauqua, NY.
The program is part of the year-long Year of the Opera Curtain celebration presented by the NM Historical Society, 14 separate events inspired by the restoration of a rare 1910 opera curtain in the society's collection. "A program on Chautauquas is a perfect fit for our Year of the Opera Curtain," said Mary Chrastil, Historical Society President. "The Chautauqua Movement was extremely popular in the Midwest. Travelling Chautauqua groups toured for 50 or more years, including regular stops in North Manchester. Today, it continues to host the most interesting speakers and authors. I would love to spend a week on their campus one day."
Because of the downtown sidewalk construction project, access to the Center for History is available through the front door, but also through the door in the alley to the west of the building. There is ample parking available in the city parking lot behind the Center. There is no cost for the program, and free admission to the museum will also be extended for the evening. Visitors can see the restored 1910 opera curtain that inspired the program. All are welcome.
---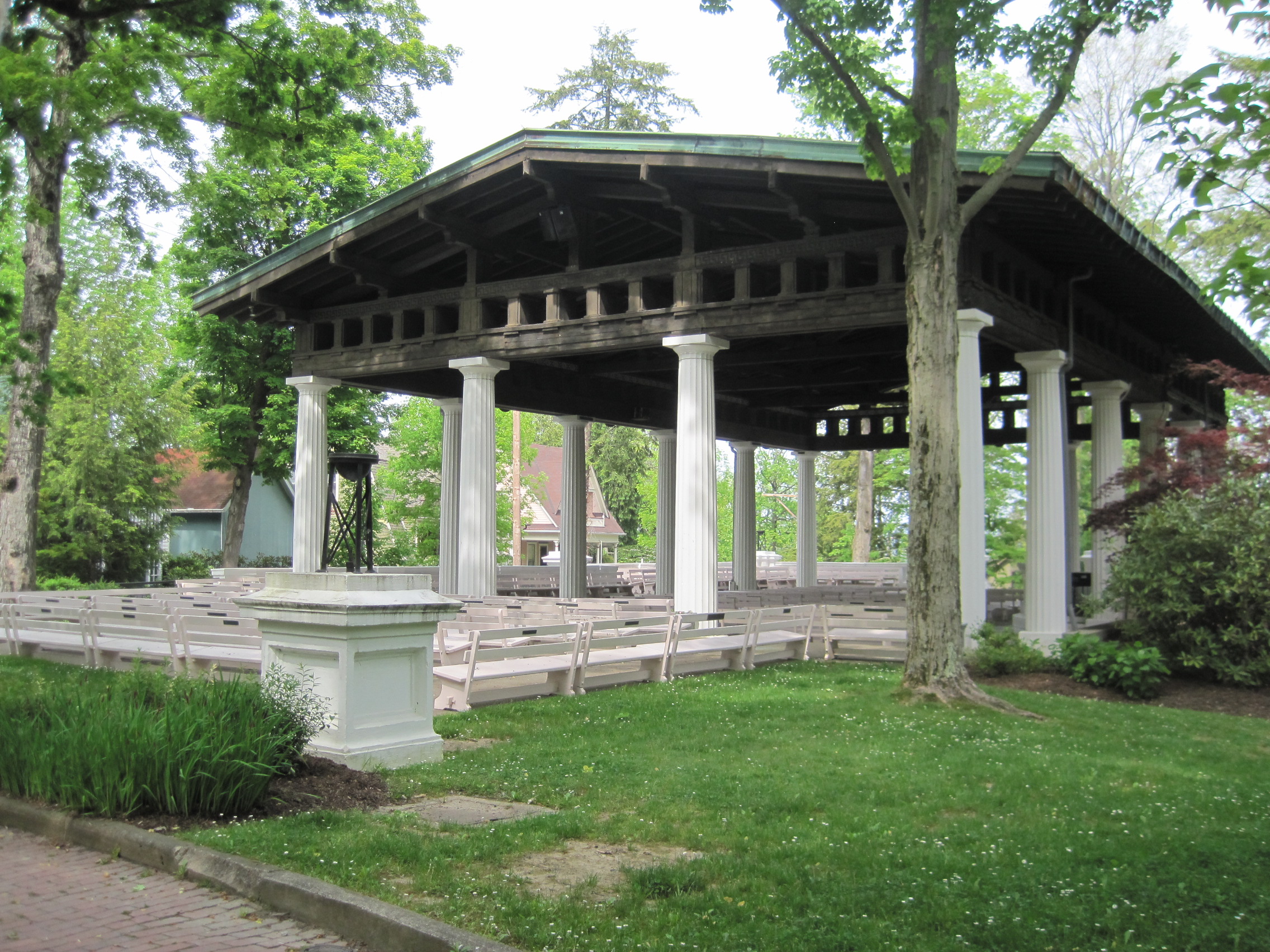 Exterior, Temple of Philosophy on the Chautauqua Institute Campus, 2012. Photo by Mary Chrastil.
Fountain in the central square of the Chautauqua Institute Campus, 2012. Bas reliefs represent Music and Knowledge. Photo by Mary Chrastil.
---